Law firms have a unique role in building trust in data… Global firm launches podcast channel…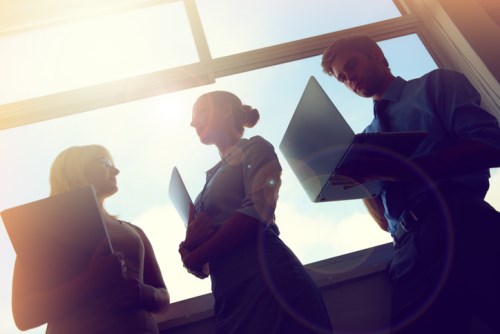 Norton Rose Fulbright adds power to Australian risk advisory team
Three advisors have joined the Australian contingent of Norton Rose Fulbright's global risk advisory team.
Their focus will be on providing non-legal advice to complement the firm's larger team of partners and lawyers in risk advisory.
Relocating from London to Sydney is John Davison, NRF's head of regulatory compliance. He brings more than a quarter of a century of experience including compliance and risk roles at RBS, the London Stock Exchange, and Deutsche Bank.
Joining the firm is Danielle Avery, formerly head of risk, strategy and operations at Westpac. She combines 22 years of experience in financial services organizations with a strong legal background.
The third new addition is Phillip Charlton, who joins from ASIC where he held several senior and leadership roles. He is a former Linklaters partner.
"The time is right to continue the investment in our risk advisory offering – through the addition of John, Danielle and Phil – under Australian risk advisory head Scott Atkins," commented Norton Rose Fulbright managing partner in Australia Wayne Spanner. "The growing scrutiny on organisational behaviour, as well as heightened concern over investigative and regulatory responses, have fuelled a demand for better, more holistic risk advice. We are confident that our growing local and international team has the range of skills and experience required to help our clients as their risk exposure evolves."
Law firms have a unique role in building trust in data
Negative news reports and consumer backlashes over data privacy should not dissuade Australian businesses from embracing its benefits.
That's the key message of a new report from Allens which urges businesses to consider 'Benefits over Backlash'.
'While it's understandable that organisations would take a cautious approach to data in the current environment, it's important that they do not stop or slow investment in data use – the benefits are too great,' said Gavin Smith, Head of Allens' Technology, Media and Telecommunications Practice and co-author of the report.
He added that organizations should ensure that their data policies go beyond legal compliance to build trust, transparency, and control for consumers.
This includes a robust, organisation-wide data governance framework - endorsed at the highest levels of the organisation - that establishes agreed principles and practices across the business – and something that law firms are uniquely positioned to advise on.
The report finds that, almost half of ASX-listed firms have not updated their privacy policies in the past two years; 70% of boards have no data or tech experience.
"A relatively small number of issues or rogue companies should not be allowed to derail the huge benefits of data for businesses, consumers and society more broadly," added Smith. "But organisations need to invest in sophisticated data governance programs, refocus on the ethical use of data, and overhaul their approach to transparency and consumer control."
Global firm launches podcast channel
Eversheds Sutherland is embracing the growing thirst for podcasts as a way to engage with clients and prospects.
The firm's podcast channel includes audio and video that can be consumed on-the-go and already features a library of more than 100 pieces of content.
The channel addresses topical and ongoing legal issues produced by the global legal practice's legal experts from its offices around the world.