One lawyer has swapped the "addictive" buzz of pulling all-nighters to do IPOs for big firms - and the busyness of an in-house counsel role - to become special counsel at a boutique NZ firm, and she's never been happier.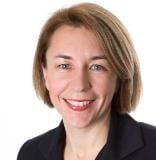 Charlotte McLoughlin has worked in big New Zealand firms, a large London firm, and in one of New Zealand's biggest corporates as in-house counsel, but she's never been happier than the role she's in now.
McLoughlin has just been appointed Special Counsel at Hudson Gavin Martin (HGM), a boutique corporate commercial firm specialising in intellectual property, technology and media.
"I can't speak for all boutiques, but for this boutique – as opposed to either a large corporate or a large firm – my life remains professionally rewarding but simpler to manage and therefore happier all round," she told
NZLawyer
.
Her legal career started at the Auckland office of
Bell Gully
in 1996, before moving to Lovells in London in 2001. She then worked at the Auckland office of
Simpson Grierson
from 2004 to 2011, before moving in-house, at Westpac, until 2013.
"Don't get me wrong. I loved my time at Simpson Grierson and Bell Gully, it was just great.
"In fact, I met the man I eventually married doing IPOs together ten years ago, doing an all-nighter at the printers checking print proofs –that's just what you used to do.
"The camaraderie was amazing and the buzz of doing those big deals is addictive, but it's exhausting."
Working in a big corporate like Westpac presented different kinds of challenges.
"I have never worked so hard in my life as when in worked in an in-house team for a big corporate. It's constant pressure to do more with less – and particularly in divisions which represent costs not revenue – and that's legal teams.
"The work floods in from everywhere. Deadlines are pushed, and there's just no let-up. So the pressures were more arduous than anything I've done here or in London. But, that said, I learnt masses, from top to bottom of the organisation. And it is invaluable experience, so I wouldn't have swapped it for the world, but I am happy where I am now."
McLoughlin now provides senior level capacity to the corporate and commercial team at HGM, advising clients on sale and purchase agreements, shareholder agreements and employee share schemes, in line with her considerable experience in in M&A and securities transactions.
"I was here before Christmas helping out Simon (Martin) and Andrew (Nicoll) with a staffing gap. I have known both of them for years - we used to work together at Bell Gully when I was just starting out.
"Towards the end of last year they told me they were looking to build the commercial practice and corporate side and asked if I would be interested and willing to play my part in that. So here I am."
Culture is very much at the heart of HGM, she said.
"The 'HGM thing', as I call it, is the total commitment to expertise in what they do, but with this really incredible corporate culture wrapped around it.
"The founders here set out to create an environment that they themselves want to work in, and current partners pay constant attention to developing that."
Other appointments at HGM
Mark Heine was recently appointed senior associate at HGM.
An experienced litigator, Heine's field of expertise is intellectual property disputes and competition law, particularly in the media sector.
Heine also began his career at Bell Gully, and has worked in the competition team at Australian firm
Allens
.