A protest in Pakistan has resulted in the death of two lawyers in the Punjabi area of Daska city… Herbert Smith Freehills appointed to help F1 boss fight £1bn tax bill… Legendary rockers respond to plagiarism lawsuit…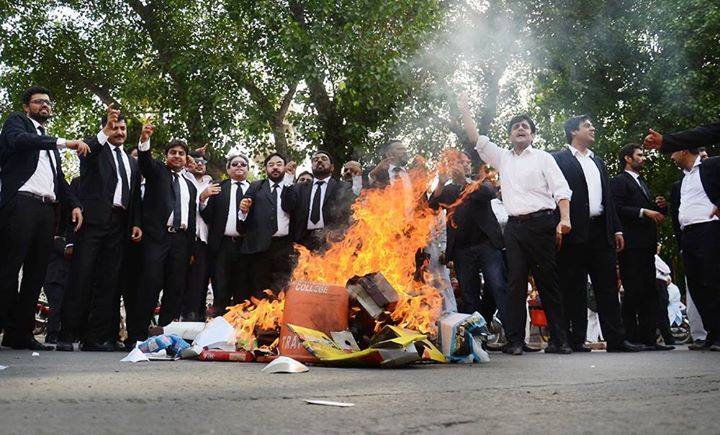 Lawyers killed in Punjab as protest escalates
A protest in Pakistan has resulted in the death of two lawyers in the Punjabi area of Daska city. According to a report by dnaindia.com police were carrying out an anti-encroachment operation and lawyers protested against the bulldozing of some shops which were the subject of court action. Police went ahead with the demolition anyway and lawyers and local residents clashed with police. Shots were fired and two lawyers, including the local bar association president were injured and later died. As news spread lawyers throughout the Punjab have protested and there have been further clashes with security forces.
Herbert Smith Freehills appointed to help F1 boss fight £1bn tax bill
The chief executive of Formula 1, Bernie Ecclestone, has again called on his lawyers at Herbert Smith Freehills to fight a high-profile case. The firm, which last year acted for the billionaire during a bribery case in the German courts, has been instructed to seek a judicial review into tax claims by Her Majesty's Revenue & Customs in the UK that could cost Ecclestone £1 billion (AU$1.98 billion). Five barristers are understood to also be acting for the F1 supremo. The case centres on tax affairs of a family trust and an agreement made between Ecclestone and the HMRC over the transfer of shares; the agency later rescinded the agreement.
Legendary rockers respond to plagiarism lawsuit
A copyright infringement case brought against legendary rock band Led Zeppelin has prompted an unusual response in the court. The lawsuit claims that the classic song "Stairway to Heaven" borrowed elements of a 1968 song called "Taurus" by the group Spirit who toured with Led Zep in their early days. Responding to the claim in an official court filing Jimmy Page, Robert Plant and Paul Jones deny the allegations but acknowledge that part of the lawsuit is accurate: "Defendants admit that Led Zeppelin has been called one of the greatest bands in history and its members were and are exceptionally talented." The trio also admit that they toured with Spirit and to incorporating part of another of the band's songs into a medley during live performances in the sixties.