A top-tier NZ firm has joined two others as affiliate members of the New Zealand Bankers' Association (NZBA).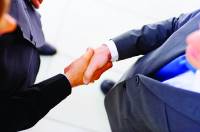 The New Zealand Bankers' Association (NZBA) has announced a third firm is joining affiliate membership.
Chapman Tripp
will join
Russell McVeagh
and
Buddle Findlay
as law firm affiliate members, NZBA chief executive Kirk Hope revealed last week.
Non-law firm affiliate members include MasterCard; and Visa, who also came on board last week.
"We are pleased both Chapman Tripp and Visa have decided to formalise their relationship with the Association and are delighted to welcome them as affiliate members," Hope said.
Chapman Tripp managing partner
Mark Reese
said the firm has had a long-standing commitment to New Zealand's banking industry.
"We are proud to be an affiliate member of the New Zealand Bankers' Association.
"We look forward to working closely with NZBA and its other members to support New Zealand's strong and stable banking system."
Speaking to
NZLawyer
last month, Hope said the affiliate membership programme was about ensuring the banking industry and the businesses that provide services to the industry are more closely connected.
"This happens in three ways – through networking, through strengthening and building relationships and through information services."
Businesses that are service providers to the industry could make an application to the association to become an affiliate member; who would then be reviewed by the association's Council - comprised of chief executives of all member banks.
"The type of business that will be interested in an affiliate membership is one who will have had a long association with either the Bankers' Association itself, by providing services to us, or to our members," Hope said.
Established in 1891, the New Zealand Bankers' Association provides a forum for members to work together on non-competitive industry issues.
Member banks of the association include ASB, Westpac, ANZ, Bank of China (NZ), BNZ, The Bank of Tokyo-Mitsubishi, Citibank, The Cooperative Bank, Heartland Bank, HSBC, JP Morgan, Kiwibank, SBS and TSB.