"It's not enough to simply express empathy or sorrow at awful injustice," Duncan Coats says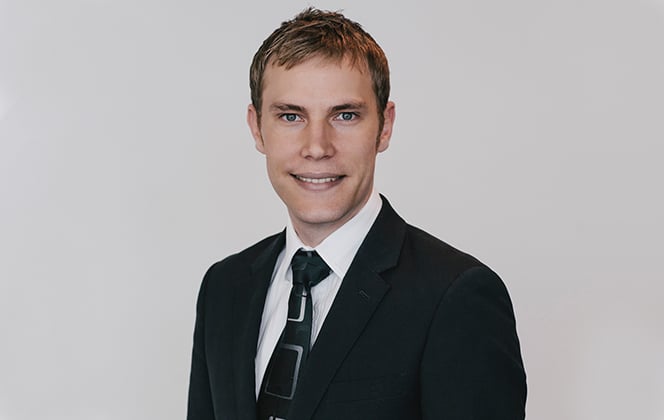 The death of George Floyd and the Black Lives Matter movement have had a strong effect on new Lowndes Jordan partner Duncan Coats.
The commercial law specialist, who once also considered a career in forensic science and criminal law, talks about how the recent events have been a powerful reminder to the legal profession of the inequality that still exists within the industry, and how important it is for leaders to prioritise driving out this inequality "in all its guises."
In this interview, Coats also discusses forming an interest in law due to his discovery of a hit-and-run victim as a child, missing haircuts and Big Macs, making the partnership in February and helping to review the firm's tech, systems and processes for a smoother work experience.
What made you choose a career in law?
At risk of this being the most morbid start in the history of this NZ Lawyer feature (!), my interest was first piqued when I discovered the body of a hit-and-run victim when I was around 10 years old. I was fascinated by the legal process that followed and knew that I wanted to be either a lawyer or a forensic scientist.
Once I discovered that the science genes in my family had been dished out in generous portions to others (and that I had become increasingly squeamish), I abandoned the idea of forensic science and criminal law. However, I cultivated my interest in law more generally through the subjects that I studied at school (particularly English and politics). I was drawn more and more towards commercial law as my studies progressed—I enjoyed a good debate and appreciated how law underpins not only society but commerce too. So commercial law seemed a natural fit for me.
What do you love most about your job?
Troubleshooting. I enjoy working with clients in order to solve their legal problems. It's what makes the job fun and rewarding. This also requires you to understand a client's industry and their business. I've been fortunate enough to advise a very wide variety of clients both here in New Zealand and in the UK—so you are constantly learning about different businesses, industries and their particular nuances.
What is going on at the firm? Are there any new programs and initiatives that you're particularly interested in?
It's a really exciting time for Lowndes Jordan. Without downplaying the impact that COVID-19 will have on numerous businesses, the pandemic also has some silver linings. It's given us an opportunity to modify our remote working and flexible working practices, which have been received positively by our staff.
I'm also assisting with a review of our firm's tech, systems and processes. I love finding new ways to work more effectively and efficiently so it's been great getting down to the nuts and bolts of what changes we can make internally in order to better serve our clients.
What has been your proudest accomplishment in the last year or so?
On a personal level, I was made a partner at Lowndes Jordan at the beginning of this year. It's an accomplishment I'm very proud of, but it's also very humbling to know that you have the respect of your clients and colleagues. It's the culmination of numerous years of hard work (studying, qualifying in two separate jurisdictions and learning on the job from the excellent colleagues I've been privileged enough to work with over the years). It's a very satisfying achievement and I'm really looking forward to this next stage in my career.
What should the profession and law firms focus more on?
I've been quite obsessed with following recent events regarding George Floyd. The injustice, the anger, the helplessness, the frustration, the grief, the devastation. It's a reminder to us all that it's not enough to simply express empathy or sorrow at awful injustice, but it's also a call to all leaders in the legal industry to take action to ensure that we drive out inequality in all its guises from our profession. Other challenges to the legal industry that are typically referred to—such as AI/tech, etc.—all seem rather trite in light of these events.
What has been the biggest challenge you and your practice has faced amid the pandemic?
Aside from not being able to have a haircut or a Big Mac, I really missed not being able to just meet up with friends, play team sport and the day-to-day hubbub of working in a collegiate environment at our office. However, during the lockdown everyone became a dab hand at Zoom (now officially a verb!) and our social committee arranged virtual quizzes, home-exercise challenges and virtual drinks to ensure everyone stayed connected. So the experience was actually quite fun.
What are you looking forward to the most in the coming year?
It's going to be interesting to advise clients in an unusual landscape. A significant part of my practice involves employment law, acting largely for employers. The COVID-19 crisis will undoubtedly have an impact on numerous businesses across New Zealand. So, in a slightly macabre sense, I'm looking forward to navigating our clients through what will be a very challenging environment in the coming months.
That being said, while there will be some bumps in the road, we've been here before with previous crises and the legal industry and the economy will eventually be back stronger. So I'm also excited to see how that pans out in the medium term.