Several high profile lawyers have accused the Ministry of Justice of a lack of transparency after it refused to divulge details about Dunedin courthouse's proposed upgrades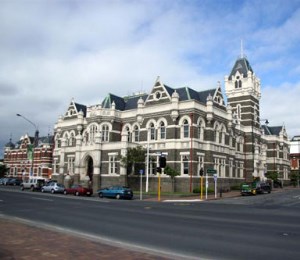 There is no reason for the
Ministry of Justice
to keep the draft business plan for Dunedin's historic courthouse a secret, Dunedin barrister, Anne Stevens has said: a view which has since been backed up by two prominent New Zealand experts in public law.
Prepared over a period of three years, the draft business plan was written by the Ministry of Justice and delivered to Justice Minister Amy Adams last month. The plan details work the Ministry has deemed necessary to enhance the safety of the building which has been standing since 1902.
In a statement given earlier in September, Adams said the renovations would cost over $15 million. Earlier plans provided an initial estimate of $2.5 million.
In order to uncover the reason for the increased costs, both Stevens and
The Otago Times
requested a copy of the draft business plan. Both were refused with the minister's office saying it had "nothing further to add to the reasons already provided in the response to the request".
Stevens criticised the response saying that "scrutiny of decision-making underpins a democracy".
"[President of Zimbabwe Robert] Mugabe doesn't have an Official Information Act. You can't have accountability without transparency."
Construction, engineering and heritage experts had all slammed the $15 million price tag, she said.
"The fact is all the experts that we've had look at it say that cost has to be out of this world."
Sir Geoffrey Palmer QC, former prime minister and public law expert, backed up Stevens' concerns and agreed they needed to be assessed by the Ombudsman.
"It seems to me that the minister's decision needs to be challenged," he told
The Otago Times
, especially since transparency was "of great value in public affairs".
Nick Russell, public law litigator and partner at law firm, Chen Palmer, also agreed with Stevens.
He told
The Otago Times
that the section cited by the Ministry was typically used to protect what was referred to as "free and frank advice" between ministers and officials.
"That's what it's for. I'd be surprised to learn that options for earthquake-strengthening a court fall into that category."
If sections of the report fell under this category, they could be withheld, he said, adding it would be "really surprising to learn the entire report has been included".
"This is not a military secret we're talking about. It's not about the operations of the SIS or the GCSB. It's about the earthquake strengthening of a courthouse."