One of New Zealand's best litigators speaks to NZ Lawyer about how he's tackling the fastest-growing organised criminal activity in the world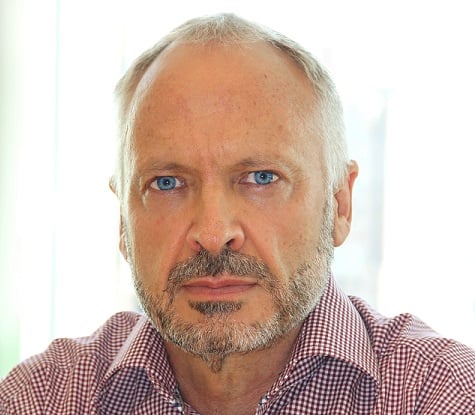 It's an unlikely next move for one of New Zealand's best litigators, but for Bell Gully partner Ralph Simpson the decision was an easy one. After 24 years with the firm, Simpson will step down at the end of this year and relocate to Thailand to combat sex trafficking.
Within the profession, Simpson is known for his work in commercial litigation, including company, securities, telecommunications and tax litigation. He lists the contested court-approved arrangement to deconstruct Fletcher Challenge, which involved five High Court and two Court of Appeal hearings, as one of the many highlights of his 30-year legal career.
"Members of the various professions in New Zealand enjoy a privileged life. If you're a senior barrister or a partner in a major commercial law firm the privileges are extraordinary. The work is stimulating, you enjoy the prestige that often comes with that work, and you can generate significant wealth throughout your career. From my perspective, with privilege comes responsibility," he says.
Outside the office, he and his wife Joy spent five years mentoring young adults, ranging from students just finishing high school to people in their late twenties. When they finished mentoring in 2007, Simpson started thinking about his next volunteer role, and asked himself the question, "What am I going to do when I cease practising as a lawyer?"
Researching his options, he began reading about human trafficking. "This is the new face of evil in our world, and the more I looked at it the more I became convinced that it will be necessary for ordinary people to become involved in combating it," he says.
To Simpson, the need is obvious. "Human trafficking is the fastest-growing organised criminal activity in the world and the second-largest activity after drug trafficking," he explains. "Two to 2.5 million people are trafficked every year, and three quarters of those go into sex slavery. A significant portion of them are children," he says. "The girls and young boys that are trafficked into brothels are forced to service 10–20 clients a day. I found this a difficult statistic to accept."
"It's an unbelievably miserable life from the time that they're trafficked, during which time they are treated as mere commodities by both sex customers and their masters. Many will experience violence," Simpson says. "It's the ultimate nightmare for a child and there is little hope of escape. The statistics suggest that between half of 1% and 2% ever get rescued and have any form of justice."
After some research, Simpson told his wife about his interest in moving to Southeast Asia, and the couple began planning.
"At that stage I thought it was five years away, but it's taken a little bit longer – nearly eight years.
During this time my wife acquired a counselling degree and gained experience providing counselling services in schools around Auckland, so that she too can contribute to assisting victims reintegrate into society following their rescue."
During that time, Simpson met the chief executive of New Zealand charity Nvader, and joined its board.
"Nvader's target is to reduce human trafficking by 10%. This includes rescuing victims from brothels, arresting and prosecuting brothel owners, and breaking down the trafficking networks," he says.
The charity runs an investigation team that gathers evidence. Once sufficient evidence has been gathered, Nvader works with local law enforcement to effect a raid, rescue the girls and arrest and prosecute the perpetrators.
Simpson will be heading up Nvader's Thailand office and hopes to expand the number of teams investigating sex trafficking in the region. He also plans to focus on preventing people from being trafficked by empowering the local community.
He predicts that language and cultural differences will be a challenge in his early days in Thailand, as will building relationships with police, the government, NGOs and social workers.
"It's quite a steep learning curve for me. I won't be practising as a lawyer. I will be building and managing the team in Thailand, formulating and implementing strategies, and establishing relationships with potential partners and Thai authorities," Simpson says.
This article appeared in
New Zealand Lawyer's
latest magazine edition 6.3. Subscribe for more articles and detailed legal features.
While he won't be working in a legal capacity, he believes the leadership and team-building skills he gained during his time at Bell Gully will greatly assist him in his new role.
Simpson says he's been overwhelmed by the support he's received from his colleagues and from the firm for his Thailand move. Bell Gully recently hosted a charity dinner for Nvader, which was attended by 240 of Simpson's colleagues and clients, and lawyers from other firms, and raised $150,000.
"The feedback I have received has been unanimously supportive, and I have felt encouraged and affirmed by the financial support," he says.
Despite the scale of the task ahead, Simpson seems undaunted by the challenge.
"I want to achieve something significant with the latter part of my working life. This draws me to endeavours to make the world a better place. By a better place I am not naively referring to some form of utopia. I don't believe we will ever stop human trafficking, but we can make a serious difference in combating it."
This article appeared in
New Zealand Lawyer's
latest magazine edition 6.3. Subscribe for more articles and detailed legal features.

Like us on Facebook and never miss an update!