Three Auckland Law School alumni and future top NZ lawyers feature in this year's Fulbright award recipients and will now go on to complete higher studies at Harvard, Columbia University and Yale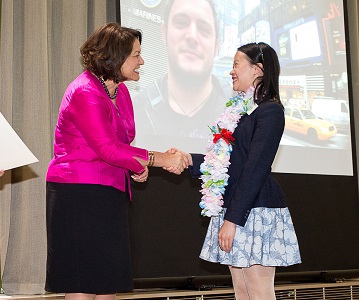 Among the 26 recipients of the 2014 Fulbright awards are three high achieving Auckland Law School alumni who are set to use the scholarship to complete further studies at Ivy League universities Harvard, Columbia and Yale.
Alix Boberg, Mike Regan and Elizabeth Chan will each receive up to $33,000 to further their studies at their choice of US institution.
Fulbright New Zealand was established in 1948 to promote mutual understanding through educational and cultural exchanges between New Zealand and the United States.
The prestigious annual awards, seen as an effective form of diplomacy, are made to graduate students, academics, artists and professionals to study, research, teach and present their work in each other's countries.
Recipient Chan has already carved out an impressive career path in New Zealand. She graduated with a BA and LLB (Hons) in the top 1% of the law graduating cohort in 2012, and since then has enjoyed extensive work experience spanning from
Herbert Smith Freehills
in Hong Kong, to a Clerk role at the
Supreme Court of New Zealand
.
She was also one of three national finalists for Young New Zealander of the Year 2012, and has spent many years volunteering at number of different not-for-profits including UN Youth New Zealand, where she had a stint as national president.
Chan will complete her Master of Laws degree, specialising in international commercial arbitration and investment arbitration, at Yale University in New Haven, Connecticut.
She told
NZ Lawyer
that she's also been fortunate enough to obtain two other scholarships to study her LLM at Yale - the New Zealand Law Foundation Ethel Benjamin Scholarship and the Spencer Mason Travelling in Law Scholarship.
"It is only through the support of these scholarships/grant that it is financially possible for me to undertake the Masters degree, which is a significant financial investment," she says. "More importantly though, I am grateful for the support of the New Zealand community in my endeavours, and being a recipient of these prestigious scholarships has increased my desire, and given me a responsibility, to use my education to contribute to the New Zealand community."
Looking to future trends, Chan is particularly interested in third party litigation and arbitration funding in terms of fee arrangements.
Currently based in Hong Kong, she has been assisting the Law Reform Commission there in a review of third party arbitration.
"I am also interested in the use of technology to deliver pro bono advice. I was involved in an organisation called LawSpot for two years, which is the first New Zealand website to provide legal advice for free. It allows any member of the community to have their legal questions answered for free," Chan says. "We wanted to make the law more accessible to people. This online model has its challenges but I am interested in seeing how we can harness technology to increase access to justice, and also be innovative in the way that we engage lawyers as lawyers to undertake pro bono work."
The other two Auckland Law School recipients – Alix Boberg and Mike Regan, both received general graduate awards, which allow them to undertake postgraduate study or research at US institutions in any field.
Boberg graduated with a BCom and LLB (Hons) in 2010. She will use her award to complete her Master of Laws degree in trial procedure and dispute resolution at Harvard University in Cambridge, Massachusetts.
Regan graduated with a BA and LLB (Hons) in 2011. He will use his award to complete a Masters of Laws degree in criminal justice and advocacy at Columbia University in New York. He will specialise in the role of community courts in addressing the over-representation of ethnic minorities in the criminal justice system.
He told
NZ Lawyer
that the opportunity to live and study in New York City is just "fantastic".
"Studying in the US is not cheap, so being granted the Fulbright makes it financially possible for me to go there," Regan says. "On top of financial assistance, the Fulbright also offers a range of programmes throughout the US before the university year begins and during academic breaks. These programmes give you the opportunity to travel to other parts of the US as well as meet Fulbright recipients from all around the world, so I'm keen to make the most of those experiences."
He looks forward to working in an environment that values and emphasises mentoring and collegiality, and says that after completing his masters he would like to return to New Zealand to resume practice as a litigator.
"I'd also like to continue my involvement with the
University of Auckland
's Law School and look to share my experiences from the US in that capacity."