The new partners strengthen the firm's global markets and dispute resolution practices in HK and Tokyo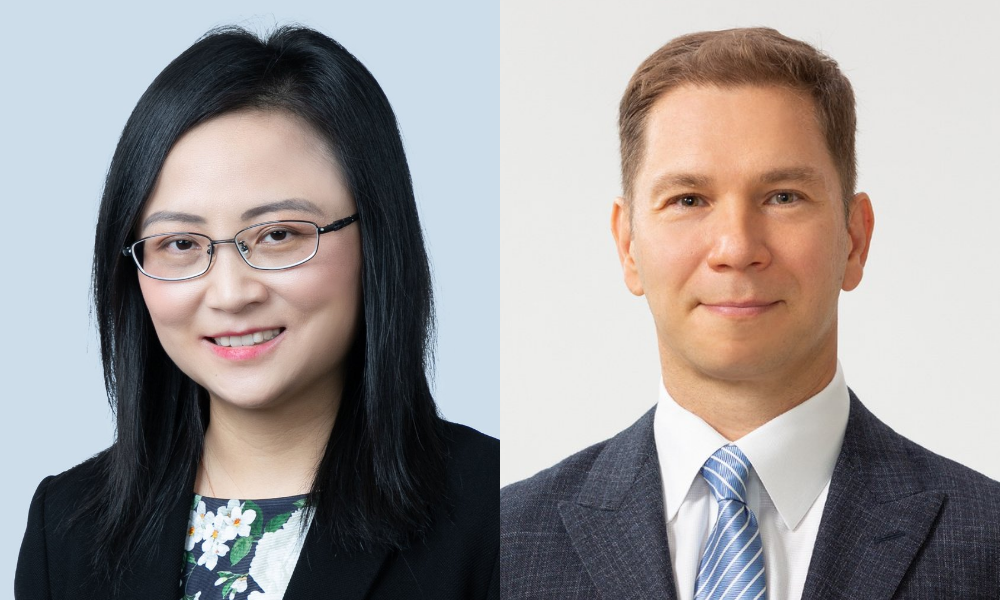 Ashurst has welcomed two lateral hires that boost the firm's partnerships in Hong Kong and Tokyo.
Jessica Li joins the global markets team in Hong Kong, while Alexander Dmitrenko is the latest addition to the Tokyo dispute resolution team.
Li specialises in matters involving debt capital markets in Greater China. She has guided clients on a wide range of debt and equity-related capital market products, as well as on standalone bond offerings, MTN programme establishment and note issuances thereunder, hybrid securities offerings, equity-linked debt products and Basel III compliant regulatory capital issuances.
She counts among her clients both local and international banks, financial institutions and corporate entities. She comes to Ashurst from Allen & Overy, and also spent some time at Clifford Chance's Hong Kong and London branches.
"Jessica is a well-regarded practitioner and we are delighted she will be joining us. The market is very active, with high-rated Chinese issuers in the capital intensive industries as well as Chinese investment banks increasingly looking internationally to raise debt financing. Jessica's expertise and depth of experience will help to us to capitalise on these opportunities," said Jini Lee, Ashurst's Asia regional head and global co-head of the finance, funds and restructuring division.
Patrick Phua, who is the Asia head of global loans and global markets practice, said that Li's appointment reflected the firm's commitment to growing its Asia presence.
"[Li] has significant experience of advising many of the leading banks for China-based DCM work as well as the most active corporate issuers in the market. Her expertise in capital markets will be invaluable as we continue to expand and support our clients across Asia," Phua explained.
Li said that Ashurst's platform was perfect for her practice.
"The firm has a very strong platform which ideally fits with my practice and the team is exceptional. I look forward to contributing my expertise, particularly across China, to the Ashurst offering," she said.
Meanwhile, Dmitrenko's practice focuses on contentious compliance work. In a legal career spanning more than 15 years, he has concentrated on white-collar defence, internal investigations, sanctions and export controls and dispute resolution.
He has assisted clients on matters related to compliance with sanctions and export controls, anti-bribery and corruption, anti-money laundering, human rights and forced labour and other laws and regulations. He has helped to establish compliance policies and procedures, conduct due diligence and compliance clearance on various projects and investments, and conduct internal and regulatory investigations related to possible breaches, such as of US sanctions or the US Foreign Corrupt Practices Act.
Dmitrenko has also advised financial institutions with regard to compliance and risk mitigation measures related to US-China regulatory tensions and potential conflict of laws. He holds practising qualifications in New York, England and Wales and the Russian Federation.
"Ashurst offers a perfectly symbiotic platform for me to assist clients on a range of cross-jurisdictional compliance issues. It is a highly reputable global firm with leading practices in Japan, Asia-Pacific and globally, and it encourages an entrepreneurial approach to developing its business," Dmitrenko said. "I look forward to contributing to the firm's expertise in this area and working with the team to address increasing client demands in the compliance area."
Ashurst said that Dmitrenko's addition to the Tokyo partnership demonstrates the increasing demand for legal knowledge in relation to ESG and compliance.
"Economic sanctions, and to some extent export controls, are such an important aspect of geo-political trading relationships. There are a number of businesses in Asia who have recently been involved in large-scale, compliance-related prosecutions," Ashurst APAC dispute resolution head Jeremy Chenoweth said. "Our clients are paying increasing attention to the importance of compliance both to manage risk and as part of an increased focus on ESG issues. Alexander is a great fit and helps us to strengthen our dispute resolution practice with a particular focus on investigations, prosecutions and international sanctions."
Dmitrenko will commence with Ashurst in 2022.