Experts from Holland Beckett and Morrison Kent Lawyers weigh in on how a change in marital status affects your will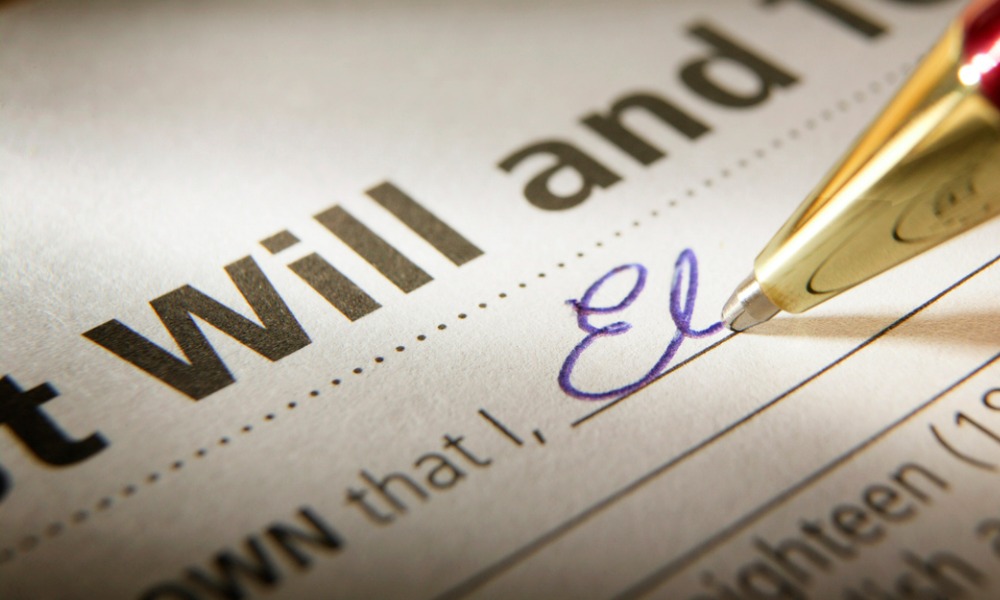 Contrary to what many may believe, drafting your will is not a set-and-forget exercise. Any decision to enter or dissolve a personal relationship may affect your estate. As such, it is important to keep your will up to date to ensure that your assets are distributed in the way you envisioned.
The decline of traditional marriages in favour of de facto relationships has brought on a change to the probate law landscape. NZ Lawyer hears from three experts on how marriage, de facto relationships, divorce, and separation affect your will.
Does marriage invalidate a will?
Despite what you may think, in many cases, marriage nullifies a will.
"When a will exists before marriage, once marriage occurs, the will is no longer considered legally valid, unless the will was specifically made 'in contemplation of the marriage'," Leesa Speed, family law partner at Holland Beckett Law, tells NZ Lawyer.
"If the will is not made in contemplation of marriage, this means any gifts or wishes in the will are cancelled upon marriage and the person is treated as having died intestate (without a valid will). The Administration Act 1969 would then determine how the person's estate is distributed."
Morrison Kent Lawyers associate Jenny Lowe recalls a recent case wherein an impromptu marriage resulted in a "nasty surprise" for a family following a woman's death. The woman was terminally ill and had left her estate to her long-term de facto partner, who she married in a gesture of romance prior to her death.
"Unfortunately, this marriage invalidated her will. As it happened, very luckily, the way that her estate was set up meant that [her partner] received almost everything anyway, even though it was now under the laws of intestacy," Lowe explains. "But…that could easily have gone the other way."
Does divorce invalidate a will?
Section 19 of the Wills Act 2007 provides for the treatment of a will following divorce.
"When divorce (formally known as dissolution of marriage or civil union) or separation occurs, a will is not automatically void," Speed tells NZ Lawyer.
"The will is read as if the surviving divorced spouse or civil union partner had died before the deceased divorced spouse or civil union partner even though they are still alive (with limited exception where disposition is in favour of children)."
This means that following divorce, a person's will remains valid, less any gifts or executor appointments that would have passed to the ex-spouse.
How does separation affect your will?
Unless you have received an official separation order under the Family Proceedings Act, separation will not affect your will.
"If parties have separated but there has been no legal dissolution of the marriage or civil union, then the provisions of the will that relate to the spouse or civil union partner are not automatically void. The provisions of the will remain effective," Speed explains.
Lowe warns of the effect this arrangement may have on de facto partners who have separated.
"I have had wills where the de facto partners were separated for decades, but the will-maker didn't update their will, leaving everything to their ex-partner," Lowe tells NZ Lawyer. "In these cases, there is a limit on what we can do under probate jurisdiction, which is very binary. The only question is whether the ex-partner has the authority, regardless of what happened."
Further, any assets not accounted for by a will, such as jointly owned property, also remain on foot following separation.
"It is very important to note that if property is owned as joint tenants (rather than tenants in common in defined shares, for example, half shares) then the property passes directly to the survivor by way of 'survivorship' and the deceased person's interest in it does not form part of their estate," Speed explains.
"For this reason, it is often advisable to take legal advice about 'severing the tenancy' following separation, particularly if there is likely to be a protracted dispute about relationship property division, to avoid the risk of this happening if one spouse/partner dies before the relationship property division has been resolved."
Can an ex-spouse contest a will?
According to Morrison Kent Lawyers senior associate David Abricossow, a key consideration in whether an ex-spouse can contest a will is whether the parties have divided their relationship property, either under the Property (Relationships) Act or by court order.
"On the death of the spouse or partner, the claimant has to make a formal election whether to take up their entitlements based on a will left by the deceased or make a separate claim under the Property (Relationships) Act," Abricossow tells NZ Lawyer.
"If there is a separation order or the parties have formally dissolved their marriage, the claimant does not have to make a formal election – they can just apply. If an ex-spouse has rendered services to the deceased prior to their passing and they were promised a share of their estate which has not been reflected in the terms of the will, they may make a claim pursuant to the Law Reform (Testamentary Promises) Act."
Speed points out that there are other mechanisms by which wills can challenged, "such as where a person believes that the will-maker did not have capacity when they signed the will, or if they were coerced into signing."
"These sorts of claims are open to an ex-spouse (or any other beneficiary)," she says.
Grounds that the validity of the will can be challenged
Under the Family Protection Act, a will's validity may be challenged where the deceased person owed a "moral duty" to the claimant. The moral duty gives ethical consideration to the nature of the relationship and the financial need of the claimant.
"The moral duty owed to a person by a will-maker therefore depends on the nature and duration of their relationship. The fact that a couple has separated is taken into account, along with the size of the estate and other claims on the estate," Speed says.
In sum, it is important to regularly review and update your will, especially when your personal circumstances change. If in doubt, and to ensure your estate is distributed correctly, it is generally beneficial to seek advice tailored to your situation.