A national firm is growing at a rate of knots and has just nabbed a rising star to bolster its insurance team in Auckland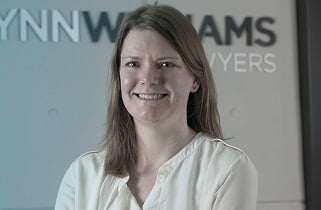 National firm Wynn Williams is experiencing rapid growth and has just bolstered its insurance team in the Auckland office with the appointment of senior associate Sophie Lucas, an experienced litigator with a specialist focus on insurance law.
Lucas has a particular reputation for defending claims made against professionals, and brings extensive experience to the firm from both in-house roles at major insurers and as an external legal provider.
She joined Wynn Williams from Kennedys and will be working alongside recent partner recruit, Richard Hern, who is well-regarded for his highly developed technical skills in insurance law.
Until a few years ago, Lucas was living in London, and spent five years crafting her trade at Robin Simon (now Triton Legal), a city insurance litigation firm with a reputation for its professional indemnity work, particularly in respect of claims against solicitors.
"I'd always wanted to work on some quite big litigation. When I first got to Robin Simon, one of the first things I started working on was the TAG litigation which involved claims against around 600 firms who had been panel solicitors for an underwriter dealing with personal injury claims," she told
NZ Lawyer
.
"Robert Simon was acting for one of the four groups of defendant solicitors. That case really got me interested in defending solicitors' claims. It all carried on from there."
Lucas did some interesting work while in the UK and says her time there really helped her develop her skills in the PI space. She also came across her fair share of quirky cases.
She fondly remembers one in particular that surrounded the transfer some properties. A key issue was whether a particular document had been forged – a question which could only be answered after forensic analysis of the original. However, only copies of the crucial document had been provided.
"After some detective work, we worked out that there was a possibility that the original could be in one of two locations. We deployed our team of juniors to roar off in search of this original, and against the odds, it was located in a dusty box file archived in Cardiff," she laughs. "The signature wasn't forged… The claim was settled without any payment being made shortly thereafter."
For family reasons, Lucas decided to return to New Zealand three years ago. She says she discovered there is a big difference between PI Down Under and in the UK.
Here, PI in itself is a specialty, whereas in the UK "a huge amount" of lawyers do this work, and as a result further specialise within it, she says.
"Practising in New Zealand, you tend to work with a much wider range of professionals, which is actually a great benefit."
Another help has been her two stints of work in-house, the second of which was a six-month secondment at AIG working with a team who dealt with financial lines claims.
This taught her to see things from clients' perspectives, she says.
"It opens your eyes a bit…when you're doing insurance related works and you're reporting to claims handlers dealing with hundreds of claims – I learnt to be mindful of the day to day pressures they face."
And since she's got back, Lucas has been able to continue her PI work in respect of complaints or claims against solicitors.
She says these complaints are not uncommon, and happen across all kinds of work and all types of firms.
"While a complaint from a disgruntled client doesn't necessarily mean the complaint will be investigated by a Standards Committee, it's a time consuming process and something many lawyers will have to deal with."
And Lucas has noted a definite swell of complaints involving blended families in the last year or so. She thinks it's partly a generational thing as blended families have become more common and as we see the first wave of parents in blended families getting older.
"A lawyer can be working with the best intentions, advising a family at a stressful time, but issues do arise. This could mean that the solicitor gets drawn into a conflict of interest situation, or that there is limited good will when it comes to dealing with issues which arise during the administration of the estate.These are things solicitors should be mindful of".
As a consequence, Lucas expects we'll see more firms taking a proactive approach to dealing with dissatisfied clients in the future.
"It's a responsible way of dealing with issues which inevitably arise, and I think we'll see that more and more, lawyers will want to actively deal with issues as they arise, rather than simply hoping that they will go away."
She was attracted to Wynn Williams because the firm is expanding - particularly the Auckland office and the insurance practice.
It was an opportunity to be part of a "growing and vibrant" firm, Lucas says.
Wynn Williams continues to expand, and is currently recruiting five additional roles. It is expected its total staff count will top 100 in the next year or so.