In NZ Lawyer's comprehensive report into the lives of lawyers in Christchurch, we uncover what's happened to law firms' offices since the devastating earthquakes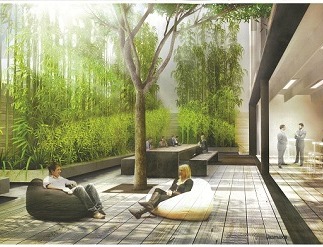 In part one of NZ Lawyer's comprehensive report into the lives of lawyers in Christchurch where we will uncover everything from the rebuild to emerging growth areas, we take a look at what's happened to law firms' offices since the devastating earthquakes hit.
After the earthquakes, law firms have been forced to occupy temporary premises spread across Christchurch.
These interim offices have often been smaller than firms' former premises, and lawyers have crammed into these temporary spaces or split their teams across several locations, some of which were not originally built for use as professional services offices. But after a long and very patient wait, law firms are beginning to return to the CBD.
Anderson Lloyd
is one of the firms that has already returned. According to partner
Jen Crawford
, the firm's new office was the first to receive urban design consent under the blueprint, and the building was also the first multistorey office to be built in the core of the CBD post-quakes.
As one of the early returners to the CBD, Anderson Lloyd has received plenty of visits from clients.
"There are not a lot of places to go for coffee in the city yet, so we have a lot of contacts and clients who pop in for a coffee and use our space as a co-working hub," Crawford says. "We were not sure how all of our people would cope with being back in town because there's a lot of memories, and not good memories, but it's been a really positive experience."
Likewise,
Buddle Findlay
's city homecoming has been a happy one: "We moved in the week before Christmas [2013] because staff really wanted to get in somewhere that was their permanent home," says senior associate Susan Rowe.
The firm has also been a magnet for clients and colleagues, with Buddle Findlay playing host to Law Society functions as other firms wait to return to the city.
A number of professionals have also toured the new office to view the layout. "The big debate here is open plan versus offices for lawyers," Rowe explains. "We split: our litigation team is in offices and our commercial team is open plan."
Wynn Williams
has also split on the open-plan and offices issue. The majority of the firm's lawyers have spent several years working in a warehouse-style building, and while some practitioners have opted to continue working in an open-plan setting, other teams are understandably looking forward to having their own office space again.
The firm is scheduled to move into its new home in October and executive chairman Jared Ormsby predicts the real highlight will be everyone working together at one office after several years of having the firm spread across three premises.
"I think everyone's really excited about being together," he says, adding that safety has been a key consideration for the firm in finding a new home, and the new premises has been constructed to 180% of earthquake code on base isolators.
"We told our staff we would only move back into the safest of buildings,"
Similarly, reuniting staff has been a priority at
Lane Neave
. Construction of a new building has commenced and the firm will be moving in within the next year, bidding farewell to the four separate Christchurch offices it has occupied since the quakes.
For
Duncan Cotterill
, the focus has been more on giving staff the opportunity to spread out. In its temporary premises, the firm's lawyers have crammed into half the office space that the firm used to occupy, and the move to new premises, which is slated for later this year, is eagerly anticipated by staff.
Chapman Tripp
's Christchurch team faces a slightly longer wait for their new office – the firm has signed a lease agreement for a new building, and construction will begin soon, with an expected move date of early 2016.
But, according to partner Andrew Woods, the wait will be worth it: "We see moving back to the CBD as an important part of our support for Christchurch and an opportunity to provide our clients and staff bigger and better premises than we had before."