It's not just about being at the top, it's about enjoying and making the most out of every step of the journey, says Cathy Quinn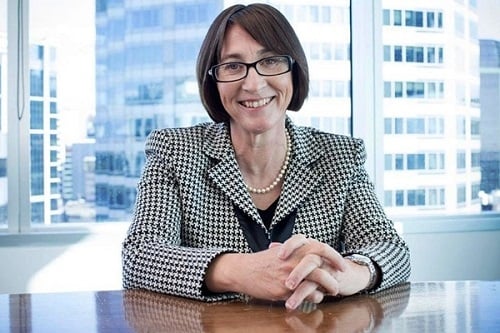 When she was still earning her law degree in Wellington,
Cathy Quinn
remembers a young man at university who couldn't wait to be in his late thirties. He was about 20 years old.
"He wanted the trappings that came with being 35 or 40. He wanted the BMW and the nice house and all those things," Quinn says. "Those things come with time, but you need to enjoy each moment that you're in. You're never going to be 20 again. You're never going to be at law school again. As you become more senior, you have a lot more responsibility, so you should enjoy every phase. Rather than worrying about the next phase, enjoy the one you're in," she adds.
And Quinn, who will be speaking at the
Women in Law Summit
at the Pullman Auckland on 17 August, has effectively handled a lot of responsibility. She led
MinterEllisonRuddWatts
before handing the controls to current chairman,
Lloyd Kavanagh
,
earlier this year
. For almost a decade, she was a member of the Securities Commission and the only lawyer appointed to the Capital Markets Development task force. She was also an inaugural member of the Commercial Advisory Board to the New Zealand Treasury, before eventually being given a seat on the organisation's board in late 2016.
Quinn is undoubtedly in the select group of women who are at the top of the legal profession. However, she says she did not set out to become chair of one of the nation's leading law firms. Reaching the top was only a product of her drive to appreciate and make the most out of every step of her journey. That's her advice for both young women and men, who are just starting out or are thinking about a career in law.
"I enjoy being a lawyer. I love advising clients. I've worked with some fantastic clients on some very exciting transactions and I've had the good fortune to work with great people both inside my firm and on the other side of the table, whether it's partners in other firms or investment banks and so forth," she says. "I always wanted to be a partner but I never set out to become the chairman of the firm. It's just something that happened. I've enjoyed every phase, and I think it's important to enjoy every phase."
Part of enjoying every phase of one's career is the professional development, which everyone should maintain as a goal.
"The thing you should always be trying to do is to improve yourself and to look for opportunities to grow as a lawyer. Look to do work for different partners, or learn about a new area, and always try to go above and beyond," she says. "If you try and go above and beyond, you'll do a good job and you'll be more satisfied. If you just did the bare minimum, I don't think that will be very satisfying."
Just as some young women lawyers find inspiration in her storied career, Quinn says one of the things that motivated her to join legacy Rudd Watts & Stone is it being the only major commercial firm at the time to have a female partner. That was Dame Patsy Reddy, New Zealand's current Governor-General, and she was part of the panel that interviewed Quinn. Over the years, she's seen the business of law, and the leadership ranks of the wider business landscape, begin to fill up with women.
"There are a lot more women in the profession at all levels," she says. "It was certainly very common in the first decade or so [of my career] to go to meetings where you would be the only woman. It's now more common to see other women senior legal counsel, businesswomen, female directors. That's quite a difference from what it was 30 or even 20 years ago."
Nonetheless, even though a lot has changed, Quinn says leaders of the legal profession should continue to encourage diversity in all ranks of their organisations.
"Law firms, like all business, are conscious of the importance of diversity, and there is ample evidence that diversity leads to better financial results. [There's] ample evidence, whether it's gender diversity, race, age, or different backgrounds," she says. "I think that the profession is just as aware of that evidence that they need to be more diverse to allow their businesses to be successful. I think everyone understands that and I think most first are working to improve their diversity at all levels – but those things don't happen overnight."
In order for this to happen, she says firms need to create opportunities and ensure these opportunities are available to all members of the firm, which is where targets play a vital role.
"I do think that there's nothing wrong with targets and measuring yourself against targets. I don't believe in quotas, but having targets that you measure yourself against, I think, keeps everyone honest," she says.
A way to promote equal opportunity in firms is to embrace flexible working arrangements, Quinn says. Firms just need to find the right balance, which isn't always a straightforward undertaking.
"There is a demand for flexible working by both men and women," she says. "The challenge is to make that work in the context of a services business. It's very competitive, and our clients are rightly demanding. It's not necessarily easy, but I accept that that is a demand of the younger generation, both men and women. I would just also say, you can't have your cake and eat it. The key is to find the right balance."
Quinn also challenges other leaders in the law to enable everyone to be their best, saying: "I think being in this position is a privilege, and we have an obligation to our clients and our people to allow everyone to be the best they can be."
Cathy Quinn will be speaking at the Women in Law Summit being held on 17 August at the Pullman Auckland. For more information, please visit www.womeninlaw.co.nz.
Related stories:
Top firm's new chair didn't let naysayers shape his destiny
New chairman of one of NZ's top firms reveals agenda for taking firm forward