One of them started as a law clerk at the firm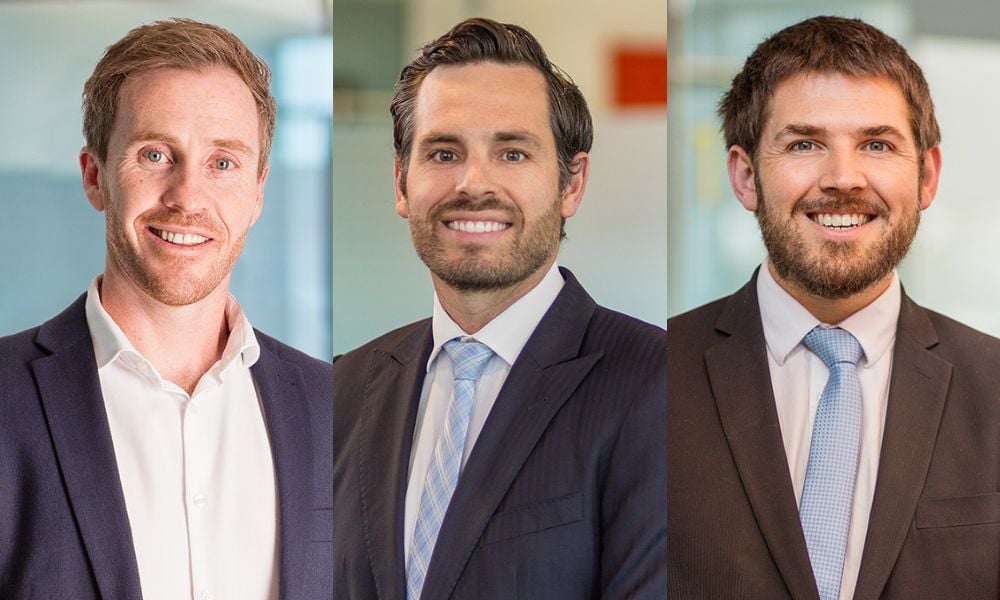 Holland Beckett Law has announced the promotion of Joel Murphy, Jeremy Sparrow, and Tim Conder to partnership, effective April 1.
Murphy has 12 years of legal experience in property law, including acquisitions and disposals, leasing, developments, financing, subdivisions and related transactions. He specialises in solar farms, kiwifruit orchards, and residential developments. Before joining Holland Beckett in 2019, he worked as an in-house counsel for one of the largest large-scale solar developers in the world. Murphy is also a committee member of the Central Regional Committee for Property Council New Zealand.
Sparrow started in Holland Beckett's litigation department in 2012 and is the first law clerk promoted to a partner of the firm. He has acted for some of the firm's major cases, including businesses affected by the Rena sinking. He spent two years working as a lawyer in London and returned to the Bay of Plenty, where he developed a specialisation in employment law.
Conder worked as an Auckland High Court judges' clerk before joining Holland Beckett in 2016. He has since driven the creation of a specialist public and local government team within the firm, serving both local government and private clients involved in government-related matters. Conder has also advised clients on regulatory compliance and has engaged with central and local governments on behalf of clients. He has helped clients transition through changes to privacy and environmental law following the COVID-19 pandemic, assisting with lobbying for legislation that will meet the policy objectives of the central government while allowing businesses to thrive.
Holland Beckett Law partner David Fraundorfer commented on the appointments, "While many provincial law firms are struggling with succession planning, we are proud to say that our recruitment strategies of the past ten years have produced the next generation of Holland Beckett Law leaders. They are true experts in their respective specialities, and we are thrilled to announce their promotion to partnership."