Nearly five years after the Canterbury earthquakes, the more complex insurance cases are starting to hit Christchurch courts, the city's lawyers say. But the earthquake rebuild is not the only driver of work, they tell Hannah Norton.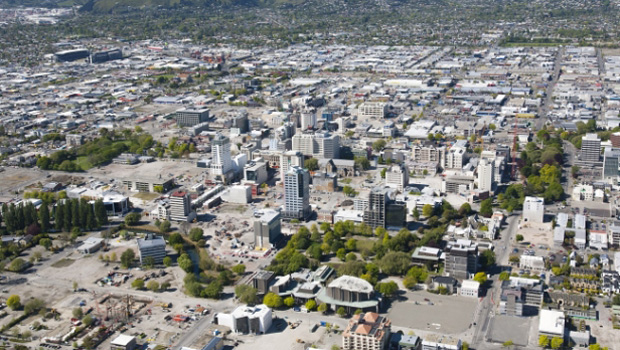 Lawyers in Christchurch firms are waiting with bated breath to see the movement in one key area, dairy prices, which have declined over the past 12 months to reach their lowest levels since 2009.
While that might seem unusual from, say, an Aucklander's perspective, in the Canterbury region agriculture is big business.
And it's that cash injection that will help drive not only the region's post-earthquake rebuild but its overall economic expansion.
"It will be interesting to see the effect dairy prices have," says Jared Ormsby, the executive chair of
Wynn Williams
' Christchurch office.
"Because that's obviously a bit of negative economic news, and that wider economy might not kick in in the way that we were all expecting it to once the rebuild started to take off."
Echoing his sentiments is
Anthony Harper
's head of litigation, Peter Woods.
"There is ongoing concern in the construction industry as to how any future economic downturn would affect the city's rebuild – we are waiting to see if the dairy industry is facing a crisis which would precipitate a slowing of the economy," he says.
"Dairy is a cyclical business," adds Christchurch-based
Chapman Tripp
partner Hamish Foote.
"And unfortunately its cycles can be long. We are now clearly moving into a low-pay-out environment, and that will cause some challenge for many people."
But it's really wrong to think of that just as a predicament that affects dairy farmers, he says.
"Their economic neighbours will also be heavily affected, and the reduction of revenues for all those people flows throughout the rural economy.
"If you're not thinking about Auckland house prices, the dairy pay-out is probably front of mind for many people."
Market impact on firms
Wider macroeconomic factors are only likely to impact on the type – rather than the volume – of work for the region's law firms, Ormsby says.
"I think litigation will continue to grow strongly, and I think that will happen regardless of the current state of the economy, because either we are going to continue to see that growth in commercial litigation, or – and we hope this doesn't happen – if the economy turns south, with the dairy or the rebuild tapering off, there's probably going to be an increase in insolvency and that type of work."
While Wynn Williams has noticed a slight increase in insolvency, particularly around the fringe operators, "we haven't seen as much as was being predicted six months ago", he says.
"There are still a lot of major projects to be completed in Christchurch, and I think for now things are still relatively buoyant.
"And I think if the economy just ends up slowing, we are not going to see as much insolvency work as was predicted. But, obviously if things take a worse turn than that then I think we'll see an increase in that area."
Anthony Harper has already seen that increase, Woods says.
"There has, in particular, been a dramatic increase in insolvency work over the last 12 months."
Key areas of work
Wynn Williams is extremely busy with construction, property and leasing work, Ormsby says.
"And we are still seeing growth in those areas.
"Litigation is still busy, but we are not seeing as much earthquake-related litigation, but I just think because the economy has been so buoyant down here that has just flowed on to commercial litigation, contract disputes, negligence and trusts litigation."
The firm has also been heavily involved in the resource management and local government space, advising Environment Canterbury and the local authorities on the work around the Lyttelton Port Recovery Plan.
"That in itself will continue to tell a bit of an economic story for Christchurch and Canterbury and the wider community, because obviously the port is essential to economic growth down here."
Forthcoming regulatory changes around the transition and the powers of the Canterbury Earthquake Recovery Authority back to local government will also impact on the firm.
"Obviously that is going to be a major change, and it will be interesting the form that legislation takes, and what's proposed and how it is proposed," he says.
"The other big thing that is happening, which is particularly relevant to us as we act for Environment Canterbury, is the transition of Environment Canterbury back to democracy and elected councillors, so from a mix of commissioners and councillors to a fully elected model in 2019."
Cavell Leitch has been hectic on the property front, particularly in the realm of commercial property, partner Sarah Manning says.
"Our clients are keeping us very busy with the full range of commercial property work.
"Recently, we have had quite a few clients whose developments have got to the stage where they can be marketed and sold, and these properties are selling well. We have also had quite a few clients buying and selling 'as is where is' commercial property," she says.
The firm has also noticed a lot of work around leases, as well as construction work such as advising on building contracts.
"There has been … quite a lot of 'lease end' work (ie negotiating reinstatement settlements) as clients move from their old premises into new premises. Also, the 'as is where is' sales and purchases are interesting."
For Anthony Harper, there has been a steady increase in insurance work – which Woods anticipates will continue for a couple more years – but no noticeable increase on the property front.
"Our property team has seen that some run-of-the-mill work – leasing and rent reviews – has reduced, but that is probably because the client has lost their building or it has been demolished," he says.
"The litigation team has seen no such downturn."
Intractable insurance cases increase
For Anthony Harper's litigation team, the key areas of work are still linked to the earthquakes and ensuing rebuild, including litigation arising out of insurance claims for commercial property, business interruption and residential property.
"We're nearly five years on and there are still a large number of residential and commercial claims out there that haven't been resolved. There is still a lot of work to do."
There are just a handful of firms who have received the bulk of the insurance work, particularly the insurance litigation, he says.
"[There are] a few firms who act for both the insurers and the insured. I think this could lead to some potential conflicts, which may prove difficult to manage.
"Anthony Harper acts for insureds – so property owners. Our clients own commercial property well in excess of a billion dollars, and we have had claims for a significant proportion of these damaged properties."
A key trend Woods has noticed is that the really challenging claims are starting to surface.
"The insurers have worked through the easier claims and now we are dealing with complicated multiple insurance, multiple tenant and common area claims."
He doesn't believe we are at the highest point of litigation now.
"The standard insurance claims for both commercial property and residential property are still growing, and we are getting those hard claims out."
He anticipates the next phase will be disputes over the quality of the work that's being done on the earthquake repair or reinstatement.
"We may also start to see some claims come through against brokers."
While the volume of insurance law cases has dropped for Wynn Williams, the firm has also noticed the increase in complex cases.
"The easy ones have all been resolved or settled, and that high volume work is starting to taper off now. But there's still those more intractable-type of complex cases.
"There's still quite a bit of work in those areas to work through … it will be interesting to see where things head post-2016."
Foote says the work is not all earthquake-related.
"When everybody thinks of Christchurch and Canterbury, they think earthquakes. But there is a lot more going on here than that.
"We have the same variety of work down here that we have nationally. So we've got a good diet of corporate work, including M&A and securities, balanced with a strong agribusiness and infrastructure client base."
Key trends in the region's legal sector
It's an exciting time for firms to be in Christchurch, Foote says.
"It's a really interesting economy at the moment because there is still a lot of insurance money slushing around.
"There is a real gold-mine mentality in parts of the city, and then there are other people who are still hurting immensely."
To the extent that the earthquake is driving work for many people, Foote thinks a lot of it is actually a secondary consequence.
"It's just the fact that there is now money and people are investing once again."
Woods notes an interesting trend is the expansion of Christchurch firms into Auckland.
"We did that over five years ago, and in the last couple of years we've seen three other firms from here expand into Auckland.
"We were committed to that pre-earthquake, because we saw that Christchurch was a mature market and we were very well placed in it, and we saw that economic growth was going to be driven by Auckland. We had clients who were asking us to be up in Auckland."
Another thing he has noticed is around the dissemination of legal information to earthquake-affected people. Anthony Harper has partnered with
Lane Neave
to hold informative public meetings on a pro bono basis, some of which have attracted over 700 people.
Canterbury University's Law School students are also assisting Anthony Harper with some of the paralegal work on claims against EQC.
"The community has become more involved in the supply of legal services.
"There's still a huge thirst for information about what people's rights are and how they should get these claims resolved."
Business confidence remains high
The feeling among Anthony Harper's clients remains optimistic, Woods says.
"There's a huge amount of physical work going on in Canterbury.
"There's low unemployment and there's good opportunity. There is a bit of frustration that it's very hard to make projects stack up in the CBD. But we are now seeing a bit of foreign investment coming in, and there's tremendous opportunity."
And Ormsby agrees.
"By and large our clients are very optimistic. I know there a couple of blips on the economic radar, but I mostly see things going forward very positively."