Having to work remotely has given Lachlan Wilson the chance to watch his daughter grow up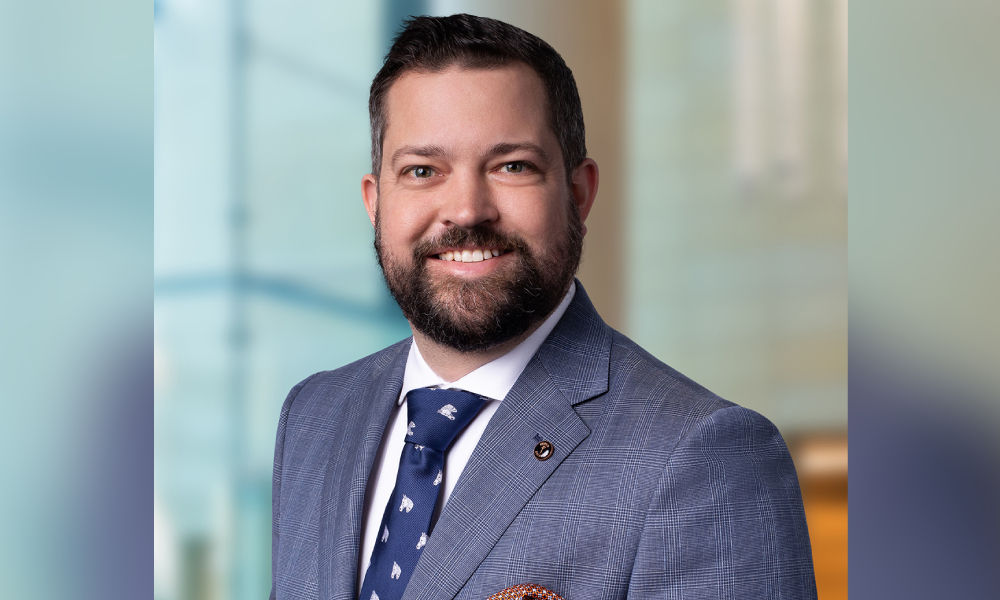 Lachlan Wilson has had an illustrious career for someone who initially started out studying economics. Since making the switch to law – a field he loves for its problem-solving aspects – he has come before the High Court a number of times. He also ascended to the position of executive head at global firm DWF's Newcastle office, leading the branch through the COVID-19 pandemic.
Having to work from home during the crisis has shown Wilson that lawyers can work from anywhere, and more importantly, that being with family is the most important thing. In his view, law firms should not just be all about its clients, but also about its people.
In this interview, Wilson talks about the transition to being one of the newest partners at Hicksons Lawyers, helping to arrange a baby's funeral and memorial early in his career, getting precious time with his daughter during COVID-19 and his outlook on the insolvency sector.
What made you choose a career in law, and what's your favourite part of the job?
I think I was going to be a lawyer from a young age although didn't recognise it. I didn't start out at university studying law (my high school didn't have legal studies when I did my HSC). However, I transferred after one year of economics – I was attracted to the problem-solving aspects of law, which is still my favourite part. I enjoy finding solutions to problems for my clients.
What is the most memorable case you've taken on/been involved in?
I have been fortunate enough to have been involved in cases that have gone to the High Court, so it would be easy to pick one of those. However, the most memorable case is one from very early in my career. We acted for a lady who had been involved in a car accident and she was pregnant at the time. The accident resulted in her baby being delivered. Sadly, he died shortly after. I helped arranged his funeral and a memorial for him and she was so incredibly grateful when we were able to resolve her matter. The positive and cooperative attitude of the solicitor for the insurer also showed me that it is always possible, and far more preferable, for disputes to be resolved and not fought over.
What is going on at the firm? Are there any new programs and initiatives that you're particularly interested in?
I have only been at my new firm for one week so far, so I haven't got my head around everything that is happening! From what I can see already, I am very interested in the cultural programs and the initiatives around diversity and inclusion.
What has been your proudest accomplishment in the last year or so? Or what's the biggest lesson you learned in the past year and what advice can you give fellow lawyers about it?
Before joining Hicksons, I was the executive head of the Newcastle office of my previous firm, and so my proudest accomplishment is navigating the office and the firm through the recent COVID-19 crisis. The biggest lesson I have learned is that lawyers can do their job anywhere and nothing is more important than being with your family.
What should the profession and law firms focus more on?
I am a believer that the most important asset a firm has is its people. You can have the best clients in the world, but if you don't have a good team to look after them, it means nothing. Firms can sometimes focus too much on clients, but I believe you should look after your people first and they will look after your clients.
What has been the biggest challenge you and your practice have faced amid the pandemic?
I have just joined a new firm, so the biggest challenge will be building my practice and supporting the Hicksons team. I practice a lot in insolvency, which means the biggest issue coming out of the pandemic will be the uncertainty as to how the economy will recover following the recession and how and what government support will look like. I think there will come a time when the government will need to turn off a lot of the stimuli and this will have a direct impact on the insolvency sector.
What are you looking forward to the most in the coming year?
Time with my daughter, Delilah. Being forced to work from home during the pandemic has ended up being amazing at a time when she is growing up so fast.