Ajay Khandhar believes he'll look back on 2020 as "a time of immense professional growth"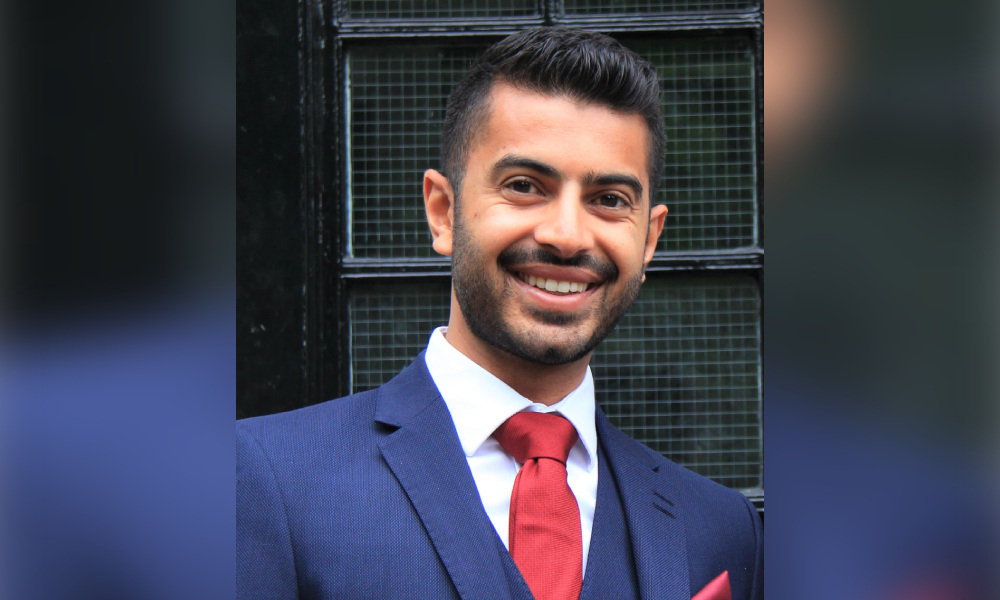 Ajay Khandhar hit the ground running after qualifying as a lawyer in NSW. He immediately latched onto a specialisation in employment law, recording stints with the employment teams in HWL Ebsworth, K&L Gates and MinterEllison.
Even as a young practitioner, he was making a splash in Australia – the Law Council of Australia named him the Australian Young Lawyer of the Year for 2013. In 2014, he was the only legal professional to receive recognition at the 2014 Australia India Business and Community awards.
Khandhar headed to London in 2015; since then, he's worked with the UK government and gone in-house as a legal counsel for Barclays. Today, he serves as an employment counsel for UK-based recruitment giant REED Group.
In this interview, Khandhar talks the transition from Australia to the UK, the importance of diversity for him as a gay Indian-Australian, how organisations can better serve their in-house legal team and helping REED Group get through the COVID-19 pandemic and prepare for a post-Brexit world as an in-house lawyer.
What made you choose a career in law, and what's your favourite part of the job?
I was a keen debater throughout high school, which is where my passion for advocacy began. I relished the challenge of constructing a thoughtful and persuasive argument to defend a proposition. Coupled with a keen interest in the humanities and social justice issues, law seemed a natural fit.
I really enjoy the practice of employment law because it's human-centred and requires the application of emotional intelligence to problem-solving. It's also a fast-paced and rapidly changing area of practice, which keeps it interesting and means I'm constantly learning.
What is the most memorable case you've taken on/been involved in?
During my time at Government Legal Department, I acted for the Ministry of Defence in a number of highly charged employment tribunals involving allegations of unfair dismissal, discrimination, victimisation, and harassment. It saw me travelling around the UK, meeting senior defence personnel, and learning about a world I'd previously known very little about.
What company initiatives have you been involved in/spearheaded in your role as employment counsel?
Supporting REED's initiatives around diversity, inclusion and belonging. 2020 has firmly put this issue at the top of every board's agenda, and it's heartening to see a desire for meaningful change.
Growing up a first generation Indian-Australian who's also gay, I certainly identify with feelings of "otherness." The benefits of employees feeling comfortable enough to bring their whole self to work are boundless – for the individual and the organisation alike. Be it recruitment, productivity, retention, employee relations or mental health – creating a workplace where diversity in all its forms is embraced is incredibly powerful, and it's a privilege to be able to help a company realise that vision.
How would you compare working in law in the UK to working in law in Australia?
The transition to working in the UK has been relatively seamless. The work culture and work ethic are very similar. My work definitely takes on more of an international dimension nowadays.
There's a real buzz about London and being based out of Chancery Lane, I'm constantly reminded of the long history and proud tradition of our profession.
What's the biggest lesson you learned in the past year and what advice can you give fellow lawyers about it?
As lawyers, we know that not every legal problem has a clear solution and are often called upon to help our clients navigate the "grey areas." 2020 has certainly thrown up plenty of grey (Brexit, COVID-19, economic downturn) and I quickly found myself intimately involved in management's day-to-day decision-making process on a broad spectrum of issues. Many a time this year I've had to draw upon the legal and commercial instincts I've unwittingly developed over the previous decade of practice in order to advise the business. I'm sure I'll look back on this period as a time of immense professional growth.
The biggest revelation of 2020 has been the adaptability and resilience we've all demonstrated since moving to homeworking in March, when the UK went into lockdown. As the saying goes, "there are decades where nothing happens, and there are weeks where decades happen." The pandemic has forever changed the world of work, and propelled the flexible working movement. In my view, this is a really positive development that can help foster better work-life balance – which is especially needed in the legal profession.
How in your opinion can companies better serve their in-house legal departments, and vice-versa?
Companies can better serve their in-house legal departments by including them at the early stages of a matter. In-house counsel can encourage this by investing time in building relations with key stakeholders early on.
In-house legal departments can better serve companies by developing a thorough knowledge of the sector in which they operate and always seeking to understand the "bigger picture" into which their advice fits.
What has been the biggest challenge you and your department have faced amid the pandemic? How have you been assisting the company in weathering the pandemic and the Brexit situation in your role?
On the pandemic front, I've been working at pace to help the business implement – and navigate – the government's furlough scheme in an effort to preserve the jobs of hundreds of our employees during the economic downturn. On the Brexit front, my role has been both offence and defence – I've been working to help the business prepare for the changes (that we know about) which will have a direct impact on our operations (e.g., immigration), while keeping on top of new developments and identifying potential risks and opportunities as we enter a post-Brexit world.
What are you looking forward to the most in the coming year?
I've desperately missed international travel this year, and the list of places and experiences on my bucket list is ever-growing. I look forward to the day life returns to some semblance of normality and I'm able to dust off my passport and hop on the next flight to anywhere.