The top legal professionals in the region gathered at The Star Sydney tonight for the Australasian Law Awards. Who were the big winners?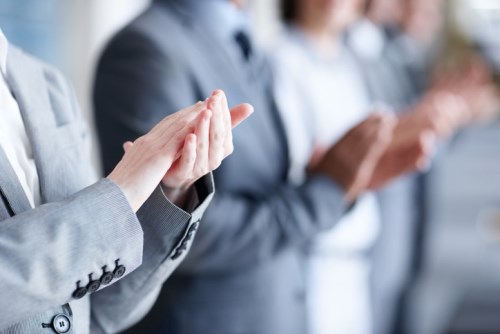 The event was attended by over 650 top legal professionals from across Australia and New Zealand. Awards were presented in 33 categories recognising the best firms, in-house legal teams and deals.
Comedian Lawrence Mooney delighted the crowds in his role as the MC, while acoustic band Luke Zanc Duo were back to entertain with their classic tunes. Audiences were also thrilled by the gravity defying performance of Aerialize, Sydney Aerial Theatre.
A full list of tonight's award winners is below:
Insolvency & Restructuring Deal of the Year
Winner: Arrium Restructuring
Property, Infrastructure & Projects Deal of the Year
Winner: Melbourne Metro Project
Debt Market Deal of the Year
Winner: Reliance Rail debt facilities re-financing
Energy & Resources Deal of the Year
Winner: Lattice Energy dual track IPO/trade sale
Equity Market Deal of the Year
Winner: Yancoal Capital Raising
M&A Deal of the Year
Winner: Yancoal acquisition of Coal & Allied
International Deal of the Year
Winner: Humanwell Healthcare/CITIC Capital acquisition of Ansell sexual wellness business
Corporate Citizen Firm of the Year
Winner: DLA Piper
JLT Employee Health & Wellbeing Award
Winner: Cooper Grace Ward
Employment Law Specialist Firm of the Year
Winner: Australian Business Lawyers & Advisors
AIG Insurance Specialist Firm of the Year
Winner: Sparke Helmore Lawyers
Australasian Lawyer IP Specialist Firm of the Year
Winner: Bird & Bird
FTI Consulting Boutique Firm of the Year
Winner: Vincent Young Lawyers
Resolution Institute Australian Arbitrator of the Year
Winner: John Wakefield
Resolution Institute Australian Mediator of the Year
Winner: Dr Anne Purcell
Young Private Practice Lawyer of the Year (30 or under)
Winner: Rebecca Johnston, HodgkinsonJohnston
Young In-house Lawyer of the Year (30 or under)
Winner: Hayley Warren, RCR Tomlinson
Banking & Financial Services In-house Team of the Year
Winner: Toyota Finance Australia
Sparke Helmore Insurance In-house Team of the Year
Winner: AIA Australia & New Zealand
MinterEllison Investment Bank In-House Team of the Year
Winner: Macquarie Capital Legal Team
Russell McVeagh NZ In-house Team of the Year
Winner: Fonterra Co-operative Group Limited
FTI Consulting Australian In-House Lawyer of the Year
Winner: Mary Roberts, Telstra
NZ Dealmaker of the Year
Winner: Pip Greenwood, Russell McVeagh
Scarlis Pringle Australian Dealmaker of the Year
Winner: Rebecca Maslen-Stannage, Herbert Smith Freehills
New Zealand Deal Firm of the Year
Winner: Bell Gully
Australian Deal Team of the Year
Winner: Allens
Law Firm Leader of the Year (<200 Employees)
Winner: Claire Carton, Griffin Legal
Scarlis Pringle Law Firm Leader of the Year (>200 Employees)
Winner: Robert Cutler, Clayton Utz
Clayton Utz Australian In-house Team of the Year
Winner: BHP Legal Team
Australian Deal of the Year
Winner: Arrium restructuring
State/Regional Law Firm of the Year
Winner: Carter Newell Lawyers
Automio Law Firm of the Year (1-100 employees)
Winner: Russells
GlobalX Law Firm of the Year (101-500 employees)
Winner: Sparke Helmore Lawyers
FTI Consulting Law Firm of the Year (>500 employees)
Winner: Hebert Smith Freehills