The firm's latest promotion round elevated lawyers across various practice areas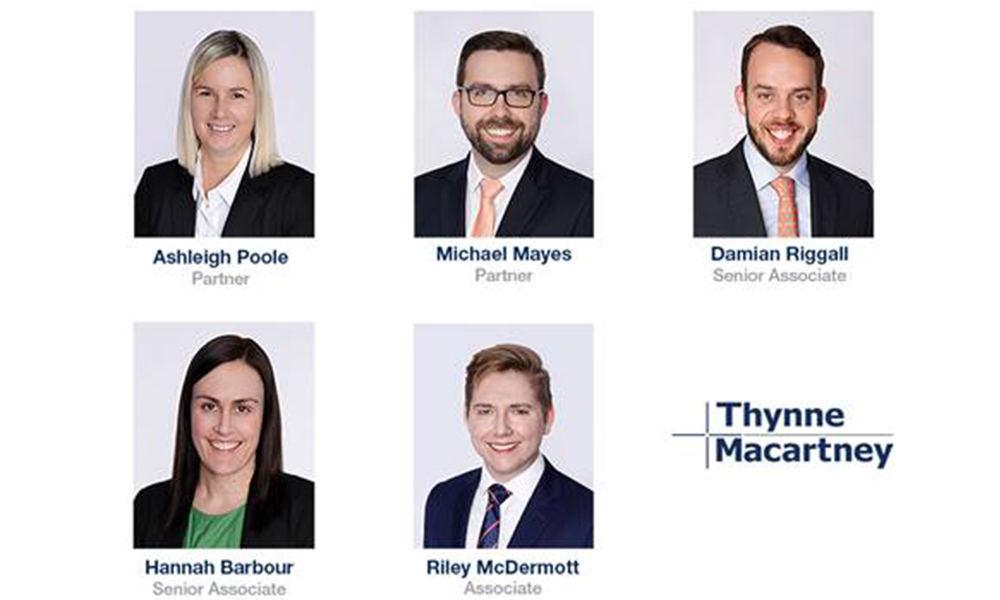 Two lawyers have made partner at Queensland firm Thynne + Macartney.
Ashleigh Poole from the wills and estates team and Michael Mayes from the banking and finance practice joined the partnership in the firm's latest promotion round. The lawyers assumed their new roles on 1 July.
Poole has received Queensland Law Society accreditation as a succession law specialist. She has handled all aspects of estate planning, estate administration, estate and equity litigation, trusts and QCAT issues.
She has a particular focus on complex deceased estates and estate planning where there is a risk of a challenge to the estate. She also has specific knowledge in matters involving applications to QCAT.
The Doyle's Guide in Queensland has recognised Poole for her expertise in wills and estates litigation and wills, estates and succession planning.
Mayes is an expert in all aspects of transactional banking and finance and construction and development finance, as well as recovery, realisation and insolvency. He has advised banks and financial institutions for nearly a decade.
He has also assisted private lenders on matters involving corporate and institutional banking and business and retail banking. He has provided advice to religious and charitable organisations, childcare and health groups, and liquor and gaming establishments; in addition, he has acted for receivers, mortgagees and other secured creditors enforcing and realising secured property.
Thynne + Macartney also elevated Hannah Barbour (agribusiness) and Damian Riggall (professional indemnity) to senior associates, while Riley McDermott (commercial and dispute resolution) got the nod to associate. These promotions also took effect on 1 July.
Chairman of partners Peter Jolly said that the promotions come as the firm returns to normal operations after "what has been three of the more unusual months" in its 127-year history.
"Thynne + Macartney is confident that within our current group of young lawyers the next generation of partners stand ready to be the law firm of the future. This was evident while working remotely, with all staff demonstrating outstanding commitment and dedication in supporting our clients who faced significant change and opportunity in their own businesses," he said.
The firm said that over 40% of the partners and lawyers on its roster have been there since the start of their legal careers, including Riggall and McDermott.
"A firm that has survived previous pandemics, as well as World Wars and recessions, Thynne + Macartney was able to offer job security to all staff without implementing pay cuts or unpaid leave during COVID-19," the firm said.