You can check in any time you like – but it's not the hotel from the hit song, says the iconic band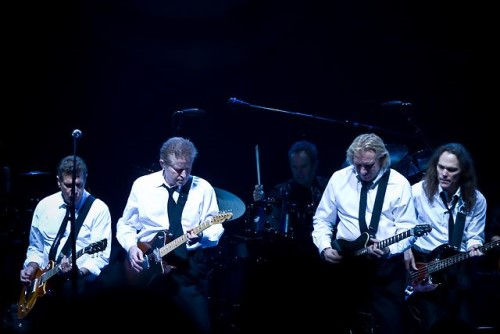 The Eagles have gone to court claiming that a hotel in Todos Santos, Mexico called "Hotel California" is profiting from infringing on their intellectual property,
according to The Hollywood Reporter
.
In a suit filed
at the United States District Court for the Central District of California on Monday, the band said that Hotel California Baja LLC is falsely leading people to believe that the hotel is associated with the band and that it served as the inspiration for the lyrics of "Hotel California."
The hit 1976 song is "arguably the band's most popular song, and in many ways embodies the very essence of the band itself," wrote lawyer Laura A. Wytsma, partner at the US BigLaw firm Loeb & Loeb, which is known for its work in the entertainment and media industry in the US.
She said that multiple online reviews show that US consumers who visit the hotel and buy its merchandise believe that the hotel is associated with the band. The hotel also plays Eagles songs though its PA system and sells clothing that describe the hotel as "legendary."
The band has been selling merchandise with the "Hotel California" trademark for more than 30 years, the suit said. It has a pending application to register "Hotel California" with the US Patent and Trademark Office for a plethora of merchandise including key chains, guitar picks, clothing, and playing cards.
The band is seeking a variety of damages, including all related profits, and injunctive relief.
According to the suit, the 11-room hotel opened as "Hotel California" in 1950 but has gone through multiple ownership and name changes. Since 2001, when current owners Debbie and John Stewart bought the hotel, they have sought to boost business by associating the establishment with the song, it said.
Related stories:
NZ Nationals in court with Eminem over campaign song copyright
50 Cent settles malpractice suit, to resolve bankruptcy