A report highlights that attitudes and cultures in law firms are still hindering the development of women in the profession… Another non-law business to provide legal services… Clifford Chance appoints new South East Asia corporate head… Linklaters appoints new global head of US practice… US firm hires KWM litigation head… Golf caddies take legal action for being forced to become 'adverts'…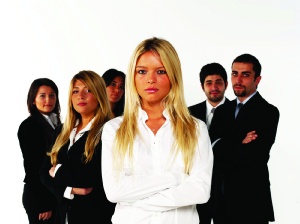 Law firms must promote women or fall behind says report
A report by business advisory group Skarbeck Associates says that law firms must promote women to avoid falling behind. It highlights that attitudes and cultures in law firms are still hindering the development of women in the profession and warns that outdated practices are detrimental to the firms and the profession. The report also says that modern working practices including flexible working and alternative billing are important factors in the continued success of law firms. It concludes that increasing technology will require law firms to maximise the talent of men and women.
Another non-law business to provide legal services
The global insurance company RSA Group is to begin providing clients with legal services having been granted an alternative business structure licence in England. The company, formerly known as Royal & Sun Alliance, will offer claims and litigation services in partnership with Parabis Law. There is no indication that it has any intention to offer similar services throughout its global structure.
Clifford Chance appoints new South East Asia corporate head
Kathy Honeywood is relocating to Singapore to lead the corporate practice of Clifford Chance. The London partner already has experience of Asia-Pac having been on secondment to China and advising clients on their operations in the region. Flying in the opposite direction will be current head of the Singapore corporate practice Simon Clinton who will be based at Clifford Chance in London.
Linklaters appoints new global head of US practice
Scott Bowie has been appointed as the new global head of the US practice at Linklaters. His focus will be on growing the firm's global US law offering and overseeing the 45 partners and 200 lawyers who make up the practice across 12 countries.
US firm hires KWM litigation head
The head of King & Wood Malleson's litigation practice in London has been hired by US firm Covington & Burling as it seeks to expand its footprint. It is reported that Alex Leitch will join the firm in the summer and there may be members of his team joining the move.
Golf caddies take legal action for being forced to become 'adverts'
Caddies working on the US PGA Tour in San Francisco are taking legal action against a number of working practices. Most notably is the convention of caddies wearing bibs with their player's name on but also carrying advertising for event sponsors. The caddies believe this is unfair as they are not paid for being 'walking billboards' and should have the right not to wear the adverts. They are also seeking better conditions, including toilet facilities, and health and pension plans. The court action is expected to be backed by caddies worldwide including Australia and New Zealand's Steve Williams who has worked with Tiger Woods.