Former lawyer and gender equality campaigner, Elizabeth Broderick, has been named the New South Wales Australian of the Year for 2016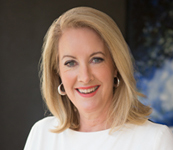 Elizabeth Broderick has been named 2016 NSW Australian of the Year due to what she achieved during her eight years as sex discrimination commissioner.
First appointed to the role in September 2007, Broderick ran campaigns preventing gender-based violence and sexual harassment, promoting greater female representation in leadership, and improving economic security for women.
She also led the Review into the Treatment of Women in the Australian Defence Force, and called for changes to the ASX Corporate Governance Principles to encourage a greater number of women into decision-making positions.
Broderick talked to Robbie Buck on 702 ABC Sydney about her time as Commissioner.
"I loved everything about that job. There is no better job in the world than that," she said. "I was working with individuals who wanted to create change in their own spheres of influence."
When tackling issues related to gender equality, Broderick said she has taken a more holistic approach, pushing towards inclusiveness by shifting the focus from competitive gender politics.
"Often we see that gender equality is a zero-sum game, where women win and men lose – and my experience is so not that," she said. "The reality is it's about men and women stepping up together to create a more equal Australia."
After finishing in her role as sex discrimination commissioner in September this year, Broderick said she already knew what lay in store for 2016. These plans included the changes she could make with her new title as NSW Australian of the Year.
"It will be connecting with those I need to connect with to create change. It will be getting others excited and on board," she said. "It will be working with all the incredible people here in NSW but also beyond who I know can influence change."
Describing the qualities she brings to her work, Broderick said that positive results stem from these issues becoming humanised.
"What I've realised is, one of the things I can bring is, I can take the personal to the heart of power," she said. "And that's what I want to do. That's when you create significant change in a nation."
Broderick was the winner of the 100 Women of Influence Awards for 2014 and has received two honorary doctorates of law from the
University of Sydney
and University of Technology. Previously, she worked as a partner and board member at legal firm, Blake Dawson (now known as
Ashurst
).