A young lady who has just been admitted to practice law at age 19 is speculated to be Victoria's youngest lawyer ever: Find out how she did it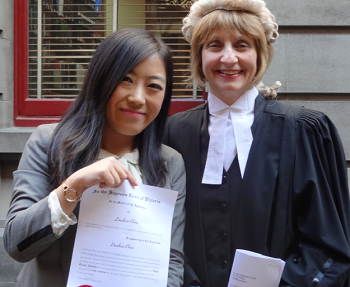 A young lawyer has just been admitted to practice at the tender age of 19, raising speculations that she may indeed be Victoria's youngest lawyer ever.

Recent graduate Liuzhuo Chen finished school at the age of 15, before completing her law degree at Bond University in just two-and-a-half years. She went on to complete the Graduate Diploma in Legal Practice at the Leo Cussen Centre for Law, where she did her PLT.

Judith Dickson, the director of practical training there, told Australasian Lawyer that when she initially saw Chen's application come past her desk she thought there must be some kind of a mistake.

But there wasn't, and since then Chen has been a "delight" to teach, she says.

"She's very committed to getting the most out of the training, and she worked very hard," Dickson says. "Certainly sometimes I had to say to her, 'time to leave'. She was very conscious of the fact this was her opportunity, and her parents were making sacrifices for her, so she wanted to do the best she could."

Chen showed particular promise in the international and commercial area, she says.

Dickson is confident that with her talent and dedication, Chen has time on her side to explore various areas of legal practice.

"I'd be very interested to see in 10 years' time what she's doing. Given her history, I'd expect it to be something of great interest."

Chen told Australasian Lawyer that she is honoured to become a legal practitioner.

She remembers becoming interested in the profession around age 10, after having a discussion with her father about a news story at the time.

"My father was impressed by how I had a strong view about social justice and how I saw things from a different perspective, so he encouraged me to study more," she says.

Chen is now focusing on strengthening her legal knowledge, and dedicating herself to an area she is enthusiastic about.

She says she's most interested in international trade and human rights, but is open to other legal work opportunities that present.

Chen agrees her young age will give her a different perspective in the legal space.

"I might have more pressure and expectations on me, but to look at these from another perspective, it is a good thing because pressure makes you improve and that is why I chose to do law."

She credits her mentors at the Leo Cussen Centre for Law, Peter Cotter and Dickson, for providing her with unwavering support and guidance.

"All I have seen, read and know is from my study. I look forward to practicing in the area and to contributing to the law," Chen concludes.

Laurelle Atkinson, the director of the law library of Victoria and the Supreme Court librarian, told Australasian Lawyer that although it's not yet proven, it's very likely that Chen is Victoria's youngest-ever lawyer.

Finding out for certain would involve the help of an enthusiastic researcher willing to spend weeks sifting through records stored on individual pieces of paper.

However, she says Chen is certainly one of the youngest to be admitted to practice in Victoria.

"It is very unusual."

By coincidence, the Supreme Court library has recently been researching members of the legal profession who were killed in World War I.

As part of this, it has a 1914 book edition on display that provides contemporary reports of the war, and a new page is turned each day to match up to its modern date.

During the research, Atkinson says the Supreme Court library uncovered the story of Murdoch Mackay who completed his LLM at the age of 20 and was admitted to the Bar at 21.

Sadly, Mackay was felled by gun fire at Pozieres in 1916.

Around the world, other young lawyers include Gabrielle Turnquest, who was recognised as the youngest barrister in the UK in 600 years when she was called to the bar in 2013 at age 18.

In 2007, Kathleen Holtz became the youngest lawyer in California, after completing her exam at age 18.