A leading South Australian law firm office expects the recent unexpected return of a Labor minority government will provide opportunities for public sector-led growth in legal work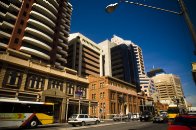 Minter Ellison South Australia managing partner, Adam Bannister, has told Australasian Lawyer the firm expects the recent unexpected return of a Labor minority government will provide opportunities for public sector-led growth in legal work.

"The Government's position is that the state can't shrink its way out of the current situation," Bannister explained. "Their core promise of 'building a stronger South Australia' indicates that continued opportunities should exist for legal and other business through implementation of key projects for the state."

Labor was returned in South Australia's election on 14 March, though it took more than a week to confirm that it had formed a minority government with the aid of independent MP, Geoff Brock.

Bannister said law firms will continue to see energy and resources opportunities during the new term of government. "Mining remains a focus and there are likely to be further and widespread business opportunities presented through this industry.

Legal players could also capitalise on any upcoming government review of briefing out policies, as it looks for cost efficiencies in the state.

"Competition is healthy, and as the state's largest consumer of legal services it would be good to see private firms being used where appropriate for Government work in conjunction with the Crown Solicitor's Office," Bannister said.

Though Labor will govern in the minority, Bannister said this is unlikely to significantly impact business.

"Labor ran as a minority government from 2002 – 2006, so the outcome of this recent election is not new or something that we have never experienced before," he explained.

However, he said business will look forward to stability as the government commences work.

"There has been a degree of uncertainty in the business community, firstly with the lead up to the Federal election and then more recently the State election," he said. "As happens with any election, there is always a hiatus. So we expect to see a period of resettling for the Labor Government. But now that the election outcome is confirmed, the market should stabilise and South Australian businesses already have some idea of what to expect from this Government."

Law firms in South Australia are also hoping Federal policies will assist the ailing local economy.

"What happens at the national level impacts on the local level. Therefore, as the national economy improves, South Australia is likely to follow suit," Bannister said. "Local factors do play a role and the fallout from the manufacturing downturn - specifically the Holden factory closure and its subsequent flow on effects - will affect our state economy. Decisions made at the Commonwealth level will impact how South Australia manages this adjustment," he said.

South Australian law firms have been facing tough business conditions over a prolonged period, which some date back to the decision by BHP to shelve its Olympic Dam expansion project.

Bannister said firms are continuing to face challenges in the current market generally.

"Transaction volumes are down, in-house legal teams are growing and legal services consumers, like consumers everywhere, are feeling the pressure and, appropriately, are demanding value for money," he said. "This trend has been building for the past few years, and the outcome of the state election is unlikely to change any of that."

Law firms will, like most commercial organisations, need to assess how best to adapt and take control of their future, Bannister claims.

"Those that can combine technical and commercially astute advice bundled with value, innovation and quality of delivery will continue to succeed."