A corporate cycling event to raise awareness and money for four "below the belt" cancers has been overrun by competitive law firms bent on a mission to beat each other… all for a good cause, of course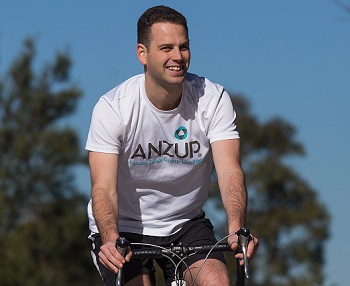 Two years ago, and the then-24 year old Simon Clarke had a small pain in his stomach so decided to get a check-up at his local GP.

Within a week, he was in hospital battling testicular cancer, reeling from the news and feeling confused about what he was dealing with.

"I was in my first full year of work. It was a shock, I didn't have any real symptoms, didn't feel unwell," he told Australasian Lawyer.

Thanks to the life-saving early detection and treatment, Clarke has now been in remission for two years.

But through the process of battling cancer he's had to learn a lot about the disease, and many of the facts about it surprised him.

Clarke says that in comparison to others like breast cancer, the four "below the belt" cancers (testicular, bladder, prostate and kidney) have a relatively low public profile, even though they account for a significant one in every five diagnoses of cancer.

And far from being an "older person's" affliction, these cancers are actually common in young men, with testicular cancer being most often detected in 20-30 year olds, like Clarke.

"With that backdrop I don't believe it has received enough recognition," he says.

In response, he's decided to give back and help others receive the best chance of early detection.

The now 26-year-old works for a boutique finance company and has previously been involved in the hugely popular "JPMorgan Fun Runs".

The runs got him thinking about how he could apply a similar model to an event for cancer.

"So with the growing popularity of cycling I thought 'why don't I take that concept'. It's a great way to bring people together and build a team," he says.

Clarke has launched his event, "Below the Belt Pedalthon", which will see corporate teams of up to eight riders cycle for an hour for each of the aforementioned cancers, or four hours in total.

All proceeds raised will go to the event's partner, the Australian and New Zealand Urogenital and Prostate Cancer Trials Group (ANZUP), which undertakes high-quality research to identify new detection methods, treatments and better ways of caring for people who are diagnosed with these cancers.

After putting the word out to the corporate community, Clarke was surprised by the overwhelming response from the legal sector in particular.

As well as having Herbert Smith Freehills and Thomson Geer as the inaugural sponsors, to date an additional eight law firms have already confirmed teams in the event, and some, including Clayton Utz, will match fund.

The other firms include Allens Linklaters, Baker & McKenzie, Gilbert + Tobin, K&L Gates, Kemp Strang, King and Wood Mallesons and Minter Ellison.

Clarke initially used a few friends and contacts including dad Andrew Clarke who is a general counsel at Origin Energy, but after momentum gained there was no stopping the law firms he says.

"The more I speak to them they're increasingly competitive and want to win. The more some teams are getting involved, others do too," he says. "Just from the expressions of interest so far I'd say the legal team are very well represented."

The event will take place on September 16 at the Sydney Motorsport Park in Eastern Creek, and teams can do as many or as few laps of the track as they like in the four hours.

The team that completes the most laps will be the overall winner on the day.

Clarke's target is to raise $150,000, of which $70,000 has already been raised. The money will come from donations and sponsorships, registration fees, and each rider is asked to try and raise $500 for the race.

There will also be a raffle on the day with impressive prizes on offer including a Toyota Yaris.

"All the money will go to ANZUP, which is quite rare. There are no infrastructure costs – none," says Clarke.

As well as raising funds for ANZUP's research, the other important part of the Below the Belt Pedalthon will be to raise general awareness about these four killer cancers.

Clarke wants to promote the introduction of a blood test for men, similar to the one that women in Australia receive if they have a family history of breast cancer, which detects a predisposition to cancer.
"If we can get the message out to young people, we can cut out the loss rate," he says.