After the bombing that killed at least 70, the Law Council of Australia says "it requires extraordinary bravery to practice law" in many places.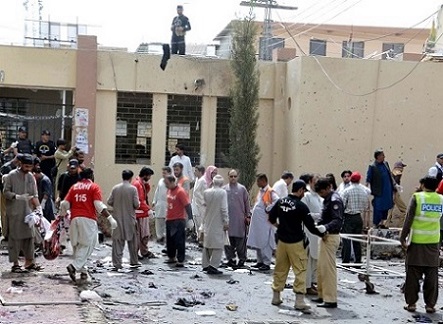 The
Law Council of Australia
condemns the horrid
terrorist bombing in Pakistan
earlier this week which left at least 70 people killed.
"In far too many places in the world, it requires extraordinary bravery to practice law," said Law Council president
Stuart Clark
AM. "The Law Council of Australia salutes the bravery and dedication to the rule of law shown by the Pakistani legal profession."
He also extended the organisation's sympathy to those affected by the attack.
"The scope of the horror in Quetta defies easy comprehension. On behalf of the Law Council of Australia, I want to offer our sincere and heartfelt condolences to those killed and those injured, as well as their families," Clark said.
The suicide bombing happened when a crowd mostly made up of lawyers gathered at the city's Civil Hospital to protest and mourn Balochistan Bar Association president Bilal Anwar Kasi who was shot to death earlier on Monday.
The bomb which was packed with ball bearings also injured more than 100 people in the city of Quetta, the capital of Balochistan province in Pakistan.
The bombing creates an ironic situation in the country, Clark noted, as the legal fraternity which was the target in the attack will be at the forefront of pushing for a fair trial of those accused of the bombing.
"It is indeed ironic that it will be Pakistani lawyers who will demand that any persons charged with offences in relation to this tragedy receive a fair trial," he said.
The council stressed the importance of the judiciary and urged for international assistance because of the bombing.
"The judiciary is a fundamental pillar of any democracy and the targeting of lawyers and judges, whether by a government or those seeking power through force of arms, is calculated to intimidate or remove those who stand for the rule of law and against corruption," Clark said.
"We urge international assistance for the Pakistani Government so that it can effectively investigate this violence and ensure that any persons who are charged are dealt with according to law and receive a fair trial," he added.