On 9 November 2014, a managing partner and his wife were tortured, stabbed and shot in their own Washington suburb home. They survived.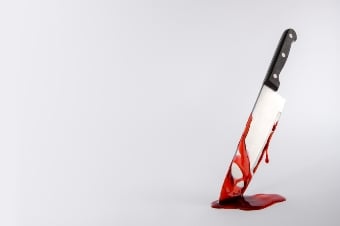 On the evening of 9 November 2014, Leo Fisher was reading in the living room of their home in the affluent neighbourhood of McLean, Virginia, waiting for his wife's roast chicken Sunday dinner.
Later that night, Fisher and his wife Sue Duncan would be fighting for their lives – Fisher with a slashed throat, Duncan with stab wounds and a bullet graze to her head.
McLean is not a neighbourhood one would associate to violence, much less torture.
The area owned the wealthiest ZIP code in the Washington Metropolitan Area in 2013 and is the home of many diplomats, congressmen, businessmen and many senior government officials due to its proximity to Washington, D.C.
But for that night in 2014, two other lawyers transformed the home of Fisher, a managing partner at a local law firm, into a real horror house.
The perpetrators were Andrew and Alecia Schmuhl.
Jason Fagone, in a new, meticulous and unsettling story on the incident for the
Washingtonian magazine
, reports on the Schmuhls' descent to the point where they committed the crime and the aftermath of the attack on Fisher and Duncan.
The Schmuls' life together began innocently enough before their downward spiral. In the piece, Fagone details how the Schmuhls met as students at the Valparaiso Law School in Indiana and then moved to Washington, D.C. after getting married.
Andrew worked in the Army's JAG Corps while Alecia worked at local law firms, including Bean, Kinney & Korman where Fisher is managing partner.
However, Andrew had to leave the Army after a serious spinal cord injury. Later on, Alecia had been let go by Fisher because she continually failed to fulfil her duties for months.
Fagone also detailed how the drugs Andrew was taking for pain, including the powerful painkiller Fentanyl, could have played a role in the crime. Andrew became dependent on a cocktail of powerful drugs for his injury, and his lawyers used the fact for his defence arguing that Andrew was not in his right mind when he attacked Fisher and Duncan.
Andrew has been sentenced to two life terms in prison plus 98 years after being indicted on seven charges of abduction, aggravated malicious wounding, use of a firearm, and burglary.
Alecia has pleaded guilty to all five similar charges brought against her and faces 10 to 45 years in prison.
As for Fisher and Duncan, that attack on a quiet Sunday night will haunt them for the rest of their life.
Duncan, after suffering concussion-like symptoms after the assault, still has ringing in her ears. Her back aches from the stab wounds, Fagone wrote. She now is not interested in socialising and wakes up from nightmares of strangers trying to kill her.
Fisher is not better off, as nerves on one side of his face were severed when his throat was cut by Andrew.
"When he gets tired, he slurs his words. It's a permanent injury that has affected his livelihood, his ability as a lawyer to speak clearly," Fagone wrote.
"At trial, on the stand, Leo Fisher, a quiet man, tried to describe the feeling. 'I just want to eject myself from where I am and scream at the top of my voice,' he said. 'I've never been a person who hated before, and I hate now.'"