A constipated Great Dane led Belinda Muir to shift careers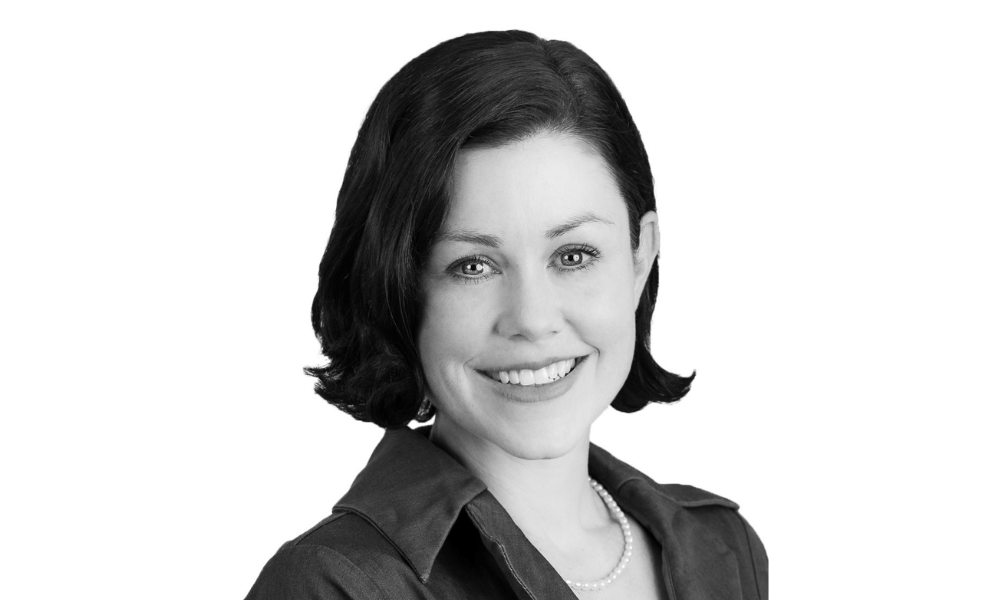 For Belinda Muir, there's never a dull moment as the general counsel at Honan Insurance. Her unlikely shift into the career was the same: Muir didn't always want to be a lawyer, but she has a constipated Great Dane to thank for the realisation that she wanted to be contributing more to the world.
Being passionate about her own growth is what led her to the field of law, but being intentional about her own influence in guiding a certain outcome is what kept her there. More than a decade into the profession – three years of which were spent at Honan Insurance – Muir has since learned how to shine in an organisation that operates in a "highly regulated space."
In this March interview, Muir discusses the fun in risk management, walking on a treadmill for a cause, the joy of working with various personalities, and sourcing inspiration from Ruth Bader Ginsberg.
What made you choose a career in law, and what's your favourite part of the job?
As a young girl, I always wanted to be a vet. I loved animals and I still do. So, in pursuit of that career, I decided to spend two weeks doing work experience at a local veterinary clinic. Day one on the job involved helping to unblock a terribly constipated Great Dane (by "help," I was tasked with holding the dog's tail at the just right angle so it didn't get in the way of the unblocking process). Day two involved re-evaluating my life choices. On reflection, there are perhaps some similarities between the unblocking process on day one of work experience and my own experience in law.
My favourite part of being in-house is enjoying the success of the business and knowing that I have contributed to that success. I also like (love) a win – who doesn't?
What is going on at the organisation? Are there any new programs and initiatives that you're particularly interested in?
Heaps! Every day there are opportunities to learn and improve and that gets me up and out of bed. I could never be in a role that is predictable – there's no fun in that and no growth. As a business that operates in a highly regulated space, we know we need to continually look at ways of improving to ensure we are leading the way across the industry. We have also been very acquisitive, which keeps me on my toes.
What tech-related initiatives adopted by the organisation, if any, are you most excited about?
As much as I love paper, yellow highlighters and sticky notes, I know that if we don't innovate, we will be left behind. We rely on technology across the business to reduce errors, manage risk, and improve service and the client experience. In my world, the use of tools like DocuSign is no longer nice to haves, but an essential tool of the trade. Working remotely for the last two years has demonstrated how critical technology is to ensuring we have a workforce that can operate anywhere at any time.
What has been your proudest accomplishment in the last year or so?
I am extremely proud of our ongoing support for Very Special Kids (VSK). Last year was Honan's first year participating in the 24-hour treadmill challenge and with the encouragement of leaders across the business (including me) we raised almost $60,000! This exercise was not only rewarding across the business and for VSK, but also a great way to build engagement after almost a year of lockdown. We are participating in the challenge again this year and hope to better our first-time efforts. VSK is a remarkable organisation and Honan's support for the cause is admirable.
What should the profession focus more on?
Teaching young lawyers how to influence an outcome, not force an outcome. The greatest asset of an in-house lawyer is being able to work with all types of personalities to achieve a result. Good influencers can work out what motivates people and what doesn't, and that skill is key to success and being effective in the role.
What are the challenges you expect in your practice, and in the business of law in general, going forward? What challenges are particularly pressing in the country's legal industry?
I think an ongoing challenge (which is perhaps not unique to the legal profession) is retaining talent. This is true at a firm/organisation level and also at an industry level. More and more lawyers see their training in law as a step to something else and are curious to try different things. This, I think, is liberating but it also means that fewer lawyers are inclined to approach a career in law with the level of dedication I remember seeing in the partners I worked with as a junior.
What are you looking forward to the most in the coming year?
A holiday (the last two years of COVID has been a challenge). I am hoping to take part in an executive leadership course at Harvard later in the year. This was something I was scheduled to do two years ago and then COVID hit. I think ongoing education and development are critical to maintain our competitive edge and important to me as someone who needs to continually learn and develop.
If you were given an opportunity to spend a day with anyone (living or dead), who would it be and why?
Ruth Bader Ginsburg. Pocket rocket with a brilliant mind and unwavering perseverance.