Nareeta Davis urges firms to "engage, listen and learn" from the unique perspective of First Nations people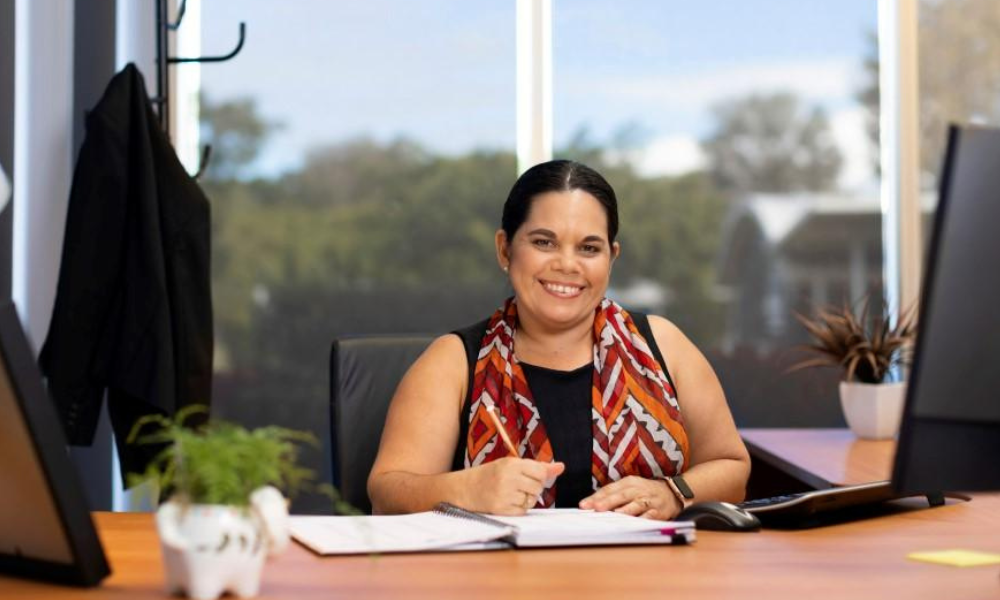 For Nareeta Davis, the most rewarding aspect of her work as a pro bono lawyer and First Nations advisor at Holding Redlich is the overlap of her career with her identity as a First Nations person.
In her youth, Davis got to witness the successful campaign of the late Uncle Eddie Mabo for Indigenous land rights – an event that helped convince her that law and giving the disadvantaged a legal voice was what she wanted to do.
In this July interview, Davis talks about the balance between the law and the lore, what true RAP commitments should look like, and the value of always being humble.
What made you choose a career in law?
Growing up, I always remembered seeing Lindy Chamberlain and the Azaria Chamberlain case on TV – a trial by media occurring right in our lounge rooms throughout Australia. I was also a very close family member of the late Uncle Eddie Mabo, who successfully campaigned for Indigenous land rights. I saw all the legal proceedings taking place in front of me; seeing the justice, and also the solicitors working tirelessly, really planted a seed in my head that law is what I wanted to do – to help people.
Also, my mum as a social worker worked in a homeless shelter when I was young, so I saw the homeless people and that made a really big impact on me. I wondered often who could help them get a legal voice.
What's your favourite part of the job?
I personally find rewarding the crossover between the two paths that I walk: one being a lawyer and the other a First Nations person. It is the law and the lore that is a constant balance of connection, education and communication between the corporate world and the spiritual world that First Nations people continuously have to navigate. I find much happiness in the commitment of Holding Redlich to engage, learn along this journey of reconciliation every day.
What is going on at the firm? Are there any new programs and initiatives that you're particularly interested in?
The firm has been presented traditional First Nations names for its meeting rooms in the Brisbane and Cairns offices. These collaborations were conducted by myself after extensive discussions and strict First Nations cultural protocols. The presentation of names for both offices was officially launched by very special ceremonies held by the traditional owners of each region – with dance, song and storytelling and enjoyed by all staff across the nation in person and live stream. The presentation of names is one of the many ways we as a corporate firm, and as individuals, gain knowledge and trust from the Indigenous communities. These are small but important steps, with each room playing a small part in preserving the Indigenous language and ensuring it continues to be spoken daily in the years ahead.
Additionally, Holding Redlich has provided two financial scholarships to First Nations law students at James Cook University and Central Queensland University. These scholarships will greatly assist First Nations law students to have a more equitable pathway into the legal profession. Furthermore, Holding Redlich will provide support by collaborating with these students and building a professional networking platform during their studies. This demonstrates true commitment to working alongside First Nations peoples, learning from each other and traveling the journey together.
What opportunity is there for commercial law services to better support the wellbeing of Indigenous communities?
Firstly, it is most important that firms are willing to engage, listen and learn from First Nations peoples. It is essential that firms are aware that First Nations people look through a different lens – First Nations people are constantly having to navigate their daily life balancing both Western expectations and First Nations expectations. There is a lot of constant negotiations and spiritual connections of law and lore. For this to be successful in the corporate arena, it is critical to be flexible and listen quietly to the First Nations people. You may be surprised as to the benefits that arise. When one stops, listens and allows to be guided, this is true reconciliation – two worlds working as one for a common goal of relationship and trust.
An avenue that corporate firms can take is to engage with First Nations businesses throughout the year. It can be common practice that these First Nations businesses are only sought after on special weeks such as NAIDOC Week, Reconciliation Week etc. Frequently supporting these businesses regularly promotes sustainability and success in community.
Furthermore, for those firms that have reconciliation action plans (RAPs), it is extremely important that the work being conducted by the committee is performed by the non-indigenous staff; not the Indigenous people. We First Nations peoples live and breathe the journey every day; it is not our job to learn the RAP commitments. Often, these committees rely too heavily upon First Nations staff. The outcome is the firm as a whole has not been true in the journey and it has just been a "tick of the box."
What advice can you give fellow lawyers?
A value I firmly hold onto is always being humble. This quality is something that I hold very deeply, as no matter what position you may hold or how many awards or accolades you may have received, nothing would have been possible without those families, friends or colleagues along your way. Yes, I may have received a few recognitions; but that has been built upon trust, support, and sheer determination.
The quality of humility keeps oneself grounded. My advice is to always give to those less fortunate, as kindness and compassion can turn someone's day or life around. Don't put your blinkers on and walk past those who need help.
Outside of the law profession, what do you like to do in your spare time, or what do you enjoy doing most?
Volunteering on the various boards I am on and running a home with two teenagers keeps me busy. I also enjoy walking my beautiful red cattle dog and going to the gym every day.