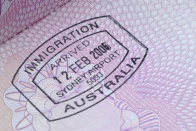 The High Court has rejected a challenge against the lawfulness of the government's role in offshore detention in Nauru.

The court has found that the Commonwealth's conduct was authorised by law and by section 61 of the constitution.

The case by 267 asylum seekers was led by a Bangladeshi woman in detention, who was brought to Australia for treatment after she experienced health issues during her pregnancy. She brought a challenge to avoid being returned to detention after giving birth to her daughter in Brisbane.

Her lawyers argued that the government had "funded, authorised, procured and effectively controlled" her detention but was not authorised by a valid Australian law and infringed constitutional limits on the government's power.

"The plaintiff is not entitled to the declarations sought," the court said in its majority decision.

Justin Gleeson SC disputed assertions during proceedings that the government was effectively responsible for the detection of people it transferred to Nauru because it paid for their temporary visas and funded the processing centre.

According to the Guardian, two significant changes were made after the case was initiated. The government pushed retrospective legislation through the parliament to shore up its offshore processing powers.

The detention facilities on Nauru also moved to an 'open centre' arrangement, allowing Australia to argue the woman bringing the case would not be being returned to detention if she was sent back to the island, The Guardian reported.