It's not Harvard, Stanford or Yale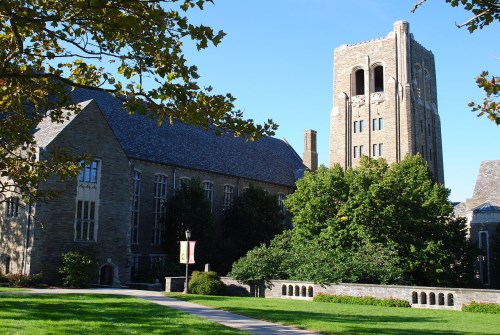 A new study has revealed the US law school with the highest-paid recent graduates – and it's not Harvard, Stanford or Yale.
Cornell Law School ranked first in Social Finance's (SoFi) "Top Law Programs - Highest Salary" list with the average salary of recent graduates at US$183,377, or about $243,000. The figure is above the average salary of graduates from the 20 law schools included, which was pegged at US$166,155, or about $220,000. Coming in at second is Columbia University in New York, with US$177,962, or about $236,000, followed by New York University with US$177,203, or about $235,000.
SoFi said it was noteworthy that the top three are located in New York – which may explain how graduates at these universities are more likely to end up with high-paying jobs at US BigLaws in the city. The graduates of all three top schools are also just one to two raises away from the US Bureau of Labor Statistics' salary of US$187,200, or about $248,000, for best-paid lawyers in the country, SoFi said.
Nonetheless, SoFi, which looked at more than 60,000 student loan refinancing applications it received between January 2014 and December 2016, said that the high paychecks can also be explained by the 90%-and-above job placement at top law schools, as wells as their rigorous legal training, development of interpersonal skills and access to networking.
Meanwhile, completing the top five are The University of Chicago with US$174,238, or about $231,000, and Harvard University with US$173,578, or about $230,000. Yale, which ranked first in the 2017 US News Law School Rankings, came in eighth on SoFi's average salary ranking with US$171,779, or about $227,000. Stanford, which tied with Harvard at second in the 2017 US News Law School Rankings, is at 16th with US$158,088, or about $210,000.
In terms of value for money, however, SoFi came up with a different list. Brigham Young University, with a salary-to-debt ratio of 1.7x, leads with an average graduate salary of US$108,916, or about $144,000, compared to average debt of just US$64,873, or about $86,000. The next three are all at a 1.4x salary-to-debt ratio. Recent graduates of the University of Texas at Austin have an average pay of US$147,444, or about $195,000, and average debt of $105,254, or about $140,000. Compared to its average debt of US$123,793, or about $164,000, Yale graduates are also faring better than most graduates from other schools. You can see both full lists below, as well as the worst value-for-money programs according to SoFi's analysis of its data.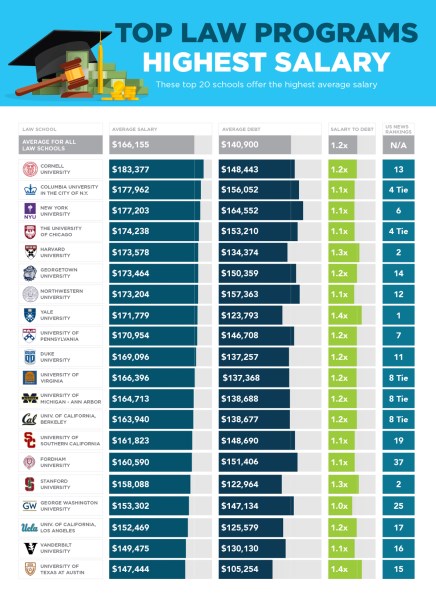 Source: Social Finance, Inc.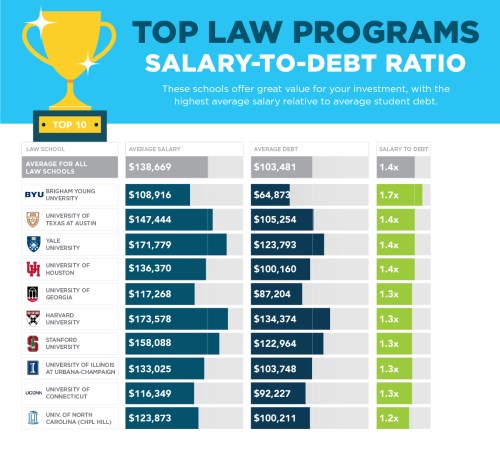 Source: Social Finance, Inc.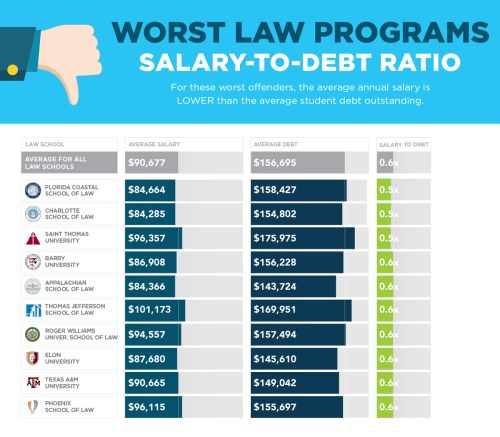 Source: Social Finance, Inc.
Related stories:
US law school enrolments stagnant
Global firm uses video game to cull applicants