David Dickens was just starting out when the GFC hit—now he's navigating the COVID-19 world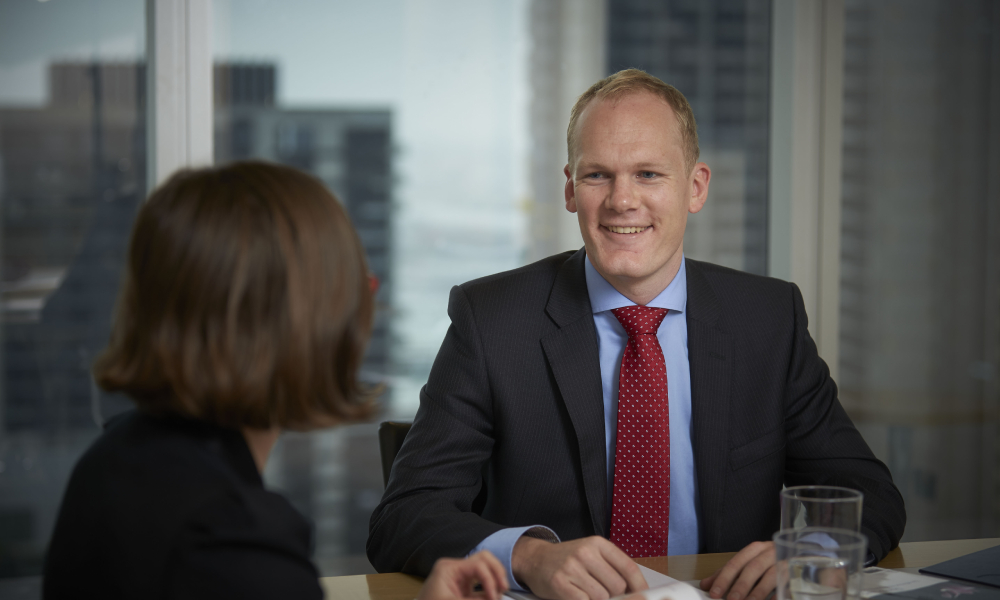 In 2007, David Dickens was fresh out of university and a new intern at the International Bar Association in London. Then the Global Financial Crisis hit, and from there, he realised what he wanted to focus on.
With the world economy struggling once more due to the impact of the COVID-19 pandemic, Dickens brings his expertise in banking and insolvency law to guide businesses that will need help navigating the current landscape. As a newly promoted partner leading the turnaround and corporate renewal group at Hall & Wilcox, he enjoys being able to help clients with their legal strategy during "pivotal" points in an organisation's existence.
In this interview, Dickens discusses his love of mentoring young lawyers, overseeing teams remotely, the importance of mental health initiatives in the profession and looking to thrive in his practice area over the coming year.
What made you choose a career in law?
After I finished my studies in law/science at Melbourne University, I took up an internship at the International Bar Association in London. It was 2007, and there I was—in one of the world's financial capitals—when the Global Financial Crisis broke out. My interest in banking and insolvency started at that point and has continued ever since.
What do you love most about your job?
I love working closely with clients and guiding the legal strategy through what is often a pivotal point in the company or organisation's existence. I love delving deep, to really learn and understand a client's business and industry. This helps ensure I deliver targeted, practical advice for clients, but it also makes the work very interesting. I also have a keen interest in helping junior lawyers develop and thrive in their careers.
What is going on at the firm? Are there any new programs and initiatives that you're particularly interested in?
We expect there will be strong demand for assistance with turnaround, restructuring and corporate renewal when we move into the COVID-19 recovery phase.
The COVID-19 emergency measures are allowing companies to survive for now. Directors don't need to worry about insolvent trading, and it's hard to force payment of unsecured debts. JobKeeper, rent abatements and loan payment deferrals are also available to many businesses.
But these emergency measures are temporary. JobKeeper 2.0 will reduce the payments being made and the second round of potential deferrals of up to four months offered by banks will expire in January 2021. Some companies will be in a dire position as these measures come to a close. Restructuring and other measures will be essential.
What has been your proudest accomplishment in the last year or so?
As a highlight, acting for trustees in a Supreme Court of Victoria proceeding to recover assets worth in excess of $500m was extremely satisfying. The case was technically very interesting and centred on breaches of directors' duties, trust law and other fiduciary obligations. I enjoyed the combination of managing a large team, while delving into the detail of complex factual and legal issues to deliver an excellent outcome for our clients.
What's the biggest lesson you learned in the past year and what advice can you give fellow lawyers about it?
2020 has thrown up some unique challenges with a global pandemic and the start of an economic downturn. One of the biggest lessons I've learnt is the importance of adapting and finding opportunity in the face of challenge, whether that is how to supervise teams while we're all working from home, or how to maintain contact with clients without the ability to have face-to-face catch-ups.
What should the profession and law firms focus more on?
Moving entire firms to remote working will undoubtedly have a lasting impact on people's ability to work flexibility in future. Any remaining stigma about flexible working is surely gone now as well.
While this is great progress, there is always a flip side. For some, working from home can lead to feelings of isolation and increased stress, and colleagues and managers may have less visibility of this. As a profession, we will need to continue to focus on and extend initiatives to support mental health irrespective of where someone is working.
What are the challenges you expect in your practice, and in the business of law in general, going forward? What challenges are particularly pressing in the country's legal industry?
COVID-19 has created significant uncertainty across the business world. We do not know if or when restrictions will be tightened or loosened, or what second- and third-order effects will be caused by the impact of the pandemic. While we spend a lot of timing thinking about it, we do not know with certainty when or how the economy will recover and what will be permanently changed.
The business of law is in the same position as many other sectors of our economy. We share the challenge of predicting the future areas of demand for our services and how we need to adapt. While there are many challenges, it is also a great opportunity to work closely with our clients and reimagine how our firm will operate in the future.
To help our clients adjust to the new world, post-COVID-19, we have pulled together the firm's expertise across many practice areas to deliver a business renewal, restructuring and turnaround service as a seamless package.
What are you looking forward to the most in the coming year?
With changes in the economic landscape, the work we expect to see will be different. There will certainly be more restructuring and turnaround. That work can be quite intense; it involves multidisciplinary teams and often throws up unique questions. It is the kind of work I thrive on, so, the next phase will be interesting.
I am also looking forward to seeing the team eventually back in our offices around Australia, collaborating, connecting, socialising and learning from each other. It's great that we can continue to balance that with flexible and remote working.