The firm elevated a total of 36 to partner across its international offices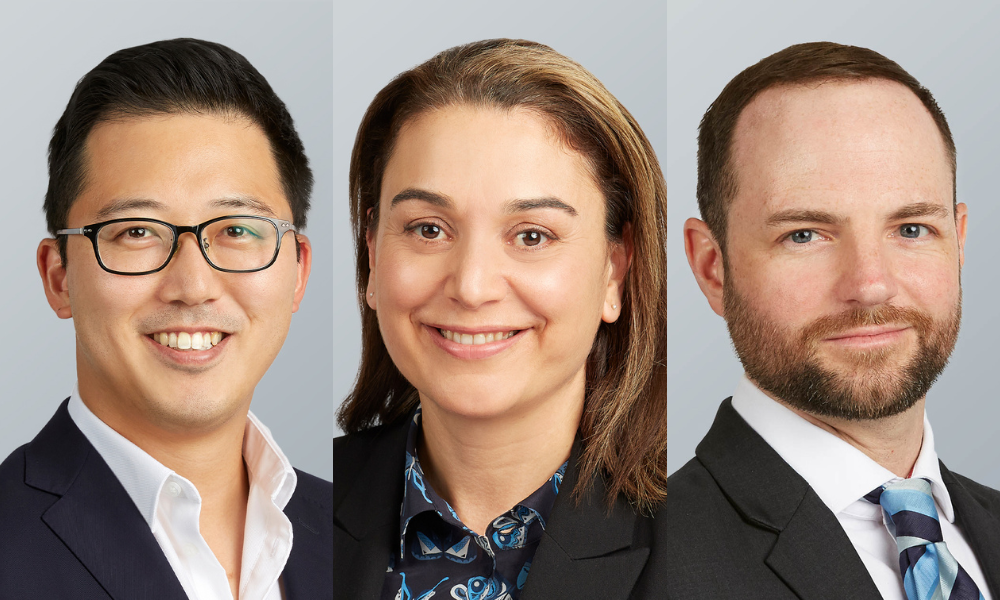 Allen & Overy's latest promotions cycle has seen three joining the partnership at the firm's Sydney office.
William Kim, Lisa Emanuel and Daniel Harris were among a total of 36 making partner across 13 of the firm's global offices effective 1 May. Kim hails from the banking team, while Emanuel and Harris work with the corporate team.
Kim tackles matters related to real estate finance, structured finance, fund finance and corporate finance. He has helped clients to structure and implement upstream and downstream facilities including subscription line facilities, GP/LP facilities, and NAV and hybrid facilities.
He has handled issues involving syndicated loans, acquisition and other event-driven financings as well as on multisource financing platforms. He has also worked on significant portfolio deals and back-leverage transactions.
Kim's clients include top investment and commercial banks, private capital fund managers and major corporates across Australia and the APAC region.
Emanuel specialises in strategic, cross border merger control and large regulatory investigations and enforcement action. An antitrust expert, she has guided clients in matters connected to digital platforms, energy and resources and financial services.
She has tackled M&A, joint ventures, and issues involving antitrust regulators, such as merger review and market studies.
Harris has spent time in both London and Sydney, and has considerable experience advising on private M&A transactions in Australia and the APAC region. He concentrates specifically on technology and communications and private capital matters, having taken on complex multi-jurisdictional technology and communications M&A deals.
His clients include international and domestic funds, corporates and investment managers, who have benefited from his advice in relation to acquisitions, disposals, joint ventures and fund raisings.
Of the 36 lawyers promoted overall, 42% are women. Global managing partner Gareth Price said that the group "reflects a very diverse range of talent".
"I'm also pleased to see a strong geographical spread and a breadth of practice and product specialisms, reflecting the quality and global reach of our new partners. Each member of the cohort brings different expertise and a wealth of experience in providing exceptional service to our clients", he added.
The other 33 new partners are as follows:
• Miklos Kadar – banking, Budapest
• Pietro Bellone – banking, Italy
• Nick Hallam – banking, London
• Mitchell Ikoghode – banking, London
• Alice Smith – banking, London
• Andreas Hommel – banking, Luxembourg
• Miao Wang – banking, Luxembourg
• Amine Bourabiat – banking, Paris
• Rishi Hindocha – banking, Singapore
• Hitomi Komachi – banking, Tokyo
• Ally de Padua – banking, New York
• Olivier Valk – corporate, Amsterdam
• Pieter Huizing – corporate, Amsterdam
• Francesca Miotto – corporate, Brussels
• Eimear Coady – corporate, London
• Chris Sabine – corporate, London
• Oliver Bacon – corporate, London
• Matthew Hamilton-Foyn – corporate, London
• Arthur Sauzay – corporate, Paris
• Tom Jokelson – corporate, Singapore
• James Smallwood – ICM, London
• Andrew Enga – ICM, London
• Tanya O'Hagan – ICM, London
• Hilary Seo – ICM, New York
• Thomas Declerck – litigation, Brussels
• Denise Benz – litigation, Munich
• Callum O'Connor – litigation, Johannesburg
• Russell Butland – litigation, London
• Charles Tuffreau – litigation, Paris
• Grace Wang – litigation, New York
• Isabelle Panis – tax, Brussels
• Esther Lemmon – tax, London
• Caroline Lapidus – tax, New York