Forty-six lawyers across 28 officers were promoted to partner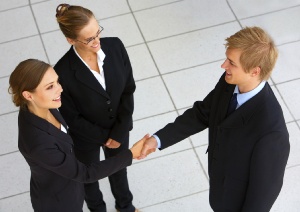 Two Perth-based
DLA Piper
lawyers have been promoted to the global firm's partnership as part of the firm's 2017 promotion round.
Jock Campbell and Rhys Davies join 44 other lawyers whom the firm has named new partners. The promotions cover all nine practice groups of the firm and come from 28 offices in 13 countries.
Campbell specialises in litigation and regulatory matters, focusing on construction, infrastructure, and professional service disputes. He acts for professional indemnity insurers on matters related to valuation, engineering, accounting, and municipal insurers and authorities.
Davies is a specialist in identifying and managing commercial, regulatory, and stakeholder issues in relation to obtaining and managing land access and statutory approvals for energy, renewables, resources, infrastructure, and property development.
Most promotions were made from the firm's corporate practice with 10 new partners, followed by litigation and regulatory with nine, finance and projects with seven and employment with five. Intellectual property and technology, real estate and tax each has four new partners, while there are two in restructuring and one in government affairs.
The United States had the most promotions with 17, followed by the UK with nine, Continental Europe with 12, the United Arab Emirates with four, and China and Australia with two each.
The new DLA partners are:
Amsterdam, Netherlands
Pieter-Paul Terpstra, Corporate
Atlanta, United States
John S. Ducat III, Real Estate
Daniel M. Simon, Restructuring
Austin, United States
Karen Nelson, Litigation
Jenifer Smith, Corporate
Beijing, China
Windson Li, Tax
Vivian Liu, Corporate
Birmingham, United Kingdom
Emma Phillips, Employment
Boston, United States
Brian Hochleutner, Real Estate
Jessica C. Wilson, Litigation
Bucharest, Romania
Radu Balas, Litigation & Regulatory
Cologne, Germany
Eva Einfeldt, Employment
Guido Kleve, Litigation & Regulatory
Dubai, UAE
Keith Bullen, Finance & Projects
Wissam F. Dagher, Litigation
Paul McViety, Finance & Projects
Suzannah Newboult, Litigation & Regulatory
Frankfurt, Germany
Bjorn Enders, Tax
Sascha Morgenroth, Tax
Liverpool, United Kingdom
Andrew McIlhinney, Employment
London, United Kingdom
Chris Chan, Real Estate
Patrick Mitchell, IPT
Edward Shaw, Litigation & Regulatory
Richard Skipper, Finance & Projects
Luxembourg
Xavier Guzman, Finance & Projects
Miami, United States
Jeffrey D. Musaffi, Corporate & Securities
Milan, Italy
Danilo Surdi, Corporate
New York
Ryan Moreno, Finance
Maruti R. Narayan, Tax
North Virginia, United States
Cathryn Le Regulski, Labour & Employment
Perth, Australia
Jock Campbell, Litigation & Regulatory
Rhys Davies, Finance & Projects
Philadelphia, United States
Richard L. Cruz, Intellectual Property
Rome, Italy
Vincenzo La Malfa, Finance & Projects
San Diego, United States
Jon A. Olsen, Corporate & Securities
Seattle, United States
Andrew Ramiro Escobar, Litigation
Tyler K. Hollenback, Corporate & Securities
Sheffield, United Kingdom
Mark Keeling, Real Estate
Amanda Pilkington, IPT
David Beech, Corporate
Silicon Valley, United States
Jennifer H. Gallo, Corporate & Securities
St. Petersburg, Russia
Natalia Vygovskaya, Corporate
Vienna, Austria
Armin Hendrich, Litigation & Regulatory
Warsaw, Poland
Bartosz Matusik, Tax
Washington DC, United States
John M. Nading, Intellectual Property
Christopher N. Steelman, Government Affairs
Related stories:
Seven Aussie lawyers promoted to Big Six's global partnership
Three Aussie lawyers join global giant's partnership