More and more large law firms in the US are focusing on the booming cannabis industry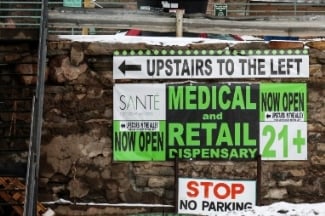 With marijuana being legalised in more states in the US, an increasing number of large law firms in the country are also launching cannabis practices. The latest of those law firms, Boston-headquartered Foley Hoag, has created a team of six lawyers to deal with the booming industry, according to a report from The Boston Globe.
The team was formed when an associate approached Kevin Conroy, administrative law partner and a former deputy attorney general, shortly after the legalisation of marijuana for recreational use in a Massachusetts ballot measure last year. Conroy, who is leading the practice group, said that the firm then investigated whether this is a practice group worth establishing. Three among the practice group specialise in regulatory law while the other three are specialists in corporate, labour and employment, and trademark law, respectively.
Massachusetts legalised recreational marijuana in a ballot measure last year. Other US jurisdictions which have legalised marijuana for recreational use are Alaska, California, Colorado, Maine, Nevada, Oregon, Washington, and Washington D.C.
"Based on that suggestion, we did about two-to-three months of due diligence, where we spoke to a number of firms that are our size in the state of Washington, Oregon and Colorado to determine whether there was a market for large firms to represent this industry on regulatory issues on the state level. And we determined that there is," Conroy told The American Lawyer.
"It's highly technical regulatory work that requires attorneys who know both politics and the law. We see some similarities to the [2012] gambling initiative, which we worked on," he told The Boston Globe.
According to the publication, the recreational marijuana industry in Massachusetts is estimated to be worth more than US$1bn annually. The large projected market for states which have legalised the substance for recreational use has driven firms such as 891-lawyer Orrick to get involved with the industry. Greenspoon Marder; Kronick Moskovitz Tiedemann & Girard; and Shumaker, Loop & Kendrick have also launched marijuana practice groups.
Foley Hoag is headquartered in Boston, Massachusetts with offices in New York; Paris, France; and Washington D.C. It has 229 lawyers and had more than $173m in gross revenue in 2015, according to The American Lawyer.
Related stories:
Lawyer facing racketeering charge for peddling marijuana growing license
Study reveals shocking industry substance abuse figures