One firm has selected works by emerging Sydney artists to create an exhibition in the firm's public space.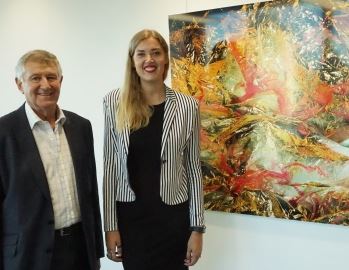 Art world heavyweight and former Art Gallery of NSW curator Sheona White has helped curate an art in the public areas of Clyde & Co, as part of the firm's commitment to assisting the community.

The firm's seven-person committee selects the works from the three Sydney art school's end of year exhibition and after hanging in the firm for a 12 month period, the works are sold in a silent auction.

"The firm identified that young and emerging artists have a great deal of difficulty finding an opportunity to have their work seen by the public and this gives an opportunity for these young artists to have their work seen," said Clyde & Co consultant Oscar Shub.

"Since we started it, the project has been incredibly well received, not only by the students but by the universities.
"They encourage us to come to the exhibitions. They always have the dean of the faculty come to the launch and I think it's becoming better known."

Last year's exhibition prize winner Hayley Jamieson said young artists are facing hard times due to a lack of support and diminishing government funding.

"It's more linked to a lack of funding than a lack of interest, as there aren't enough government grants or programs available to support our careers early in life," she said.

"We are living in an economy where we are taught that art is a luxury that is out of one's budget, which is just not true when it comes to artists at the beginning of their careers.

"The more initiatives created to aid people in realising this, the better the result for the whole community."

Jamieson said that having her work hung in the Clyde & Co office last year resulted in the sale of one of her works.

Last night, Clyde & Co launched their 2016 collection, awarding National Art School graduate Hannah Pembroke as winner of the grand cash prize. The works will be exhibited in the firm's Sydney office for the duration of 2016.