A major firm has advised on the Sydney International Convention Exhibition and Entertainment Precinct PPP.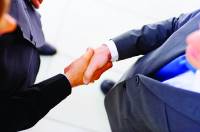 Herbert Smith Freehills has advised equity investors Lend Lease and HOSTPLUS on the $1.4bn repricing of the Sydney International Convention Exhibition and Entertainment Precinct, whilst still under construction.
The precinct, still under construction and due to be completed in December next year, was the first PPP to be signed off by the NSW Liberal Government in 2011. Lead partner on the transaction Erin Wakelin said the construction project is 'iconic'.
"This has seen us break new ground with both financiers and the State," Wakelin said.
"The deal demonstrates to the market that changed lending conditions offer an opportunity for PPP investors and State governments to achieve better commercial outcomes, even when the project is still under construction.
"We also developed documentation and a process that could be used on other repricing transactions, so these should be even more streamlined going forward."
Led by Capella Capital, the repricing allowed Lend Lease and HOSTPLUS to take advantage of improved liquidity, pricing and terms in the lending market. The refinance was completed last week.
The renewed precinct will feature an event deck and red carpet theatre, as well as an upgraded public domain, the whole exhibition capacity 35,000sqm.
Wakelin predicts further refinancing transactions in the infrastructure sector over the next twelve months.
"There is ongoing activity in the public-private partnership sector including the ACT Capital Metro PPP, the Victorian Schools PPP, the ACT Courts PPP, the WA Schools PPP and the New Zealand Puhoi to Warkworth PPP," she said.
"There will be more movement in refinancing and, given the success of this transaction, possibly a renewed interest in repricing transactions for projects currently under construction.
"Due to the spate of sales by State governments, including the 'poles and wires' privatisation in NSW, the Port of Darwin, the Port of Melbourne and the sale of the Port Hedland Airport," Wakelin said.