Sparke Helmore partner Karwan Eskerie talks about homing cows with plate numbers and his ideal location for court hearings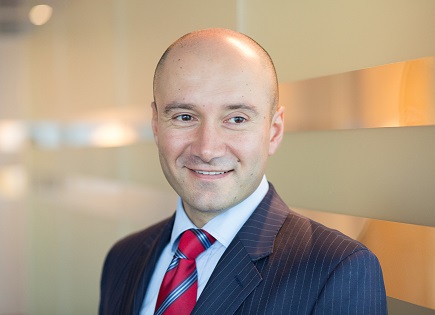 Five minutes with Sparke Helmore partner Karwan Eskerie.
What made you decide to become a lawyer?
It became apparent very early on that I couldn't do maths or chemistry. Nor could I sing or act. I liked biology, but never found it inspiring. I love politics but was never fond of the idea of being a politician. Philosophy was not practical enough for me. I wanted excitement but I didn't have the coordination for sport. You catch my drift. It was, in the end, an easy choice.
How long have you worked at Sparke Helmore
and what brought you to this position?
I joined Sparke Helmore in early 2015, after practising as a government lawyer and litigator in New Zealand and the United Kingdom for over a decade. I was attracted to the Government practice at Sparke Helmore, given the nature and quality of the practice and the opportunities it offers for complex solicitor advocacy.
What's the strangest case you've ever worked on/been involved with?
During my time in the UK, I was involved in a public inquiry into allegations of torture and unlawful killing by British soldiers in Iraq. Amidst what was a set of very grim facts, there were some very strange stories. Homing cows with plate numbers, RPGs being carried for protection against boars, claimed sightings of long-extinct tigers in the Iraqi desert, a futuristic laser weapon used against the eye (which turned out to be an ophthalmoscope) and Jihadis holding tubs of yogurt on the battlefield were just a few.
If you could invite three people for dinner, dead or alive and excluding family and friends, who would they be and why?
Aldous Huxley because I want to compare his Brave New World and ours; Zenobia, Queen of the Palmyrene Empire, to talk about Palmyra and the Romans; and Salman Rushdie because of the magic in his mind.
You're based in Sydney – where's the best place to go for a drink and/or dinner after work?
I don't like fancy bars and restaurants. For drinks, my favourite places are RSLs and Yacht Clubs—you will find me at the Commercial Travellers Association on Martin Place or the North Bondi RSL. For food, head west. Go somewhere like Auburn or Liverpool for Iraqi, Afghan and Turkish cuisine or Ashfield for excellent Chinese food.
What's the best piece of advice (work or personal) you've ever been given?
My father once shared with me a Kurdish proverb, "Doing and regretting is better than omitting and regretting". An Italian friend rephrased it for me as "Try any new experience that comes your way. You will seldom regret doing so."
Do you have any hobbies/interests outside of work?
I love culture, language and food, which means I love to travel, read and eat.
Complete this sentence: If I wasn't a lawyer, I would be…
...an architect, surely.
What do you think will be single biggest issue facing the legal space in Australia in 2016?
This is a difficult question. Certainly in my area of law, the changes in migration legislation brought about by the enactment of the
Australian Border Force Act 2015
(Cth) and various other legislative amendments are likely to exercise administrative lawyers the most in the coming year.
If you had Malcom Turnbull's job for one day, what would you do?
No, thanks. But if I had to, I might go on a whistle-stop tour of some of the Pacific Islands. On serious business, of course.
What do you love about your job?
I honestly love all of it. I enjoy the intellectual challenges, the adrenaline, the advocacy, the client care. Ours is a people's business and at the heart of it is the art of persuasion, which is a lifelong skill to harness and develop. I cherish that. As I do the daily exercise in logic that underpins law. The infinite space to grow is what keeps me going. In the words of one of my mentors, the day I stop learning is the day I intend to quit.
What would you change about your job right now if you could?
I was once involved in a litigious matter, which was heard on a Pacific Island. The hearing was conducted on the beach. I wouldn't complain if all our hearings were conducted outdoors.