The Criminal Bar won't be quiet, its chairwoman says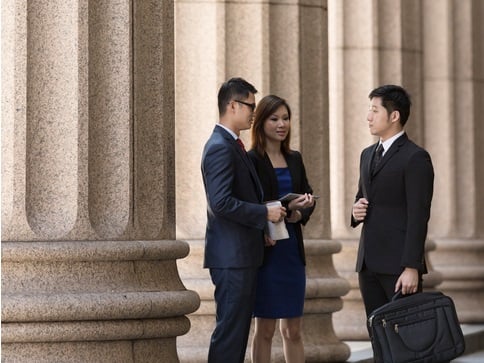 Even as criminal barristers in England and Wales have narrowly voted to end industrial action over budget cuts, the sector's top body has vowed to keep the fight alive.
On Tuesday, the Criminal Bar Association of England and Wales revealed that 3,038 barristers voted in the poll that decided whether to accept the proposal made by the government last month to end the boycott on new legal aid work. There were 1,566 (51.55%) barristers who voted to accept £15m funding boost, while 1,472 (48.45%) voted to reject.
"Whilst the majority wishes to accept the proposal, it cannot be said that the anger and disillusionment has gone away. Indeed, it is exceptionally strong. The Criminal Bar is not going to be quiet," said chairwoman Angela Rafferty QC.
The government met with representatives of the sector in May to propose a compromise, which included funding for cases and junior barristers.
Criminal barristers are decrying the continued defunding of their sector amid unsustainable workloads, particularly the revamp to the Advocates' Graduated Fee Scheme (AGFS). The latest government rework has been estimated by the Bar to have cut reading fees by up to 40%, all while the system continues to experience a cascading build-up of caseload.
Rafferty said that the investment in the AGFS is a first step in a long road to rehabilitating the criminal justice system.
"The damage done in recent decades will not be undone in weeks, or perhaps years. This proposal is the beginning and not the end of our campaign to improve the broken system we all work in every day," she said. "We still face exceptional difficulties, as do our solicitor colleagues. This will not fix the terrible conditions, the unhealthy and unreasonably onerous working practices and the general decrepitude. However, if we consider it a start we can build on it."
The Bar has now also launched a campaign for more government support for prosecutors.
"For too long prosecutors have tolerated the intolerable too," Rafferty said. "We must work towards changing this as well as the continued investment in AGFS in the future. Without the commitment and skill of those who prosecute the system would collapse quickly. Disclosure is still a huge issue. We make a commitment to you now to mirror our efforts on AGFS towards prosecution work."
She said that the vote is neither a defeat nor a victory.
"The Criminal Bar has faced degradation and despair and it still does. This is a step forward. We must all ensure we do not take any more steps back," she said.
Related stories:
UK criminal barristers boycott new work
'System is on its knees,' says UK criminal bar chair