Australian M&A surged in first 9 months of 2017… Leadership changes at Baker McKenzie…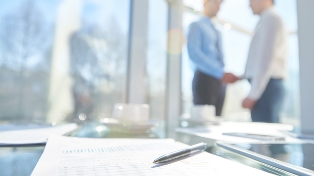 Dentons launches in Melbourne with Nick Stretch team
Dentons has continued its Australian expansion with a new office in Melbourne.
The new office is headed by Nick Stretch whose experience includes 25 years as a partner at
Gadens
, 3 years as a director at Chimaera Capital, and 7 years running Nick Stretch Legal.
He is joined by a further three partners and four senior practitioners, adding significant strength to the firm's capabilities in Australia.
"Opening a Melbourne office has always been a key part of our local growth strategy. We continue to grow the firm strategically in Australia, adding new capability and expertise to meet the needs of our clients globally," said Steve Healy, Australia region CEO.
Dentons now has three offices in Australia including Sydney and Perth, along with associate offices in Adelaide and Brisbane.
Australian M&A surged in first 9 months of 2017
The value of Australian mergers and acquisitions in the first nine months of 2017 was $60.8 billion from 385 deals.
Mergermarket's Q1-Q3 2017 report shows that inbound Australian M&A value increased by 41.5% to AU$36.4 billion compared to the same period of 2016; outbound soared 95.9% to $15.1 billion.
The largest single deal was the acquisition of The Colonial Mutual Life Assurance Society Ltd and Sovereign Assurance Company Limited by AIA Group Ltd. The $3.8 billion deal was in the third quarter of 2017.
Third quarter deals targeting Australian firms slowed by 24% to $15 billion from 136 deals.
The strongest sector for inbound deals across the three quarters was EMU which overtook transport. EMU deals totaled $34.3 billion from 55 deals and accounted for 56.3% of total deal value in Q1-Q3 2017. Four out of the five top deals of the year have been in this sector.
Business services had the most announced deals of the 9-month period (71) compared to 2016 and was worth $4.9 billion.
For outbound deals, financial services M&A had 7 transactions worth $4.4bn YTD, the third highest value since 2001. This sector contributed to almost 29.3% of total outbound value.
Leadership changes at Baker McKenzie
Baker McKenzie has announced some leadership changes at the end of its Annual Partner meeting in Hong Kong.
Erik Sheer and Jaime Trujillo take over the chair role of the firm's regional councils for EMEA and Latin America while Constanze Ulmer-Eilfort will chair the Global Diversity & Inclusion Committee and joins the firm's Executive Committee,
London-based David Allen becomes global chair of the Private Equity Practice; and Joanna Ludlam and William Devaney will co-chair the Compliance & Investigations practice.