Police in South Australia uncovered an elaborate prisoner revenge plot, a court heard yesterday.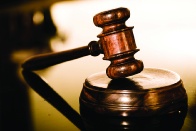 Two prisoners have gone to trial charged with conspiracy to murder and conspiracy to endanger life, after police stopped South Australian prisoners from acting on a plot to kill two judges, a court heard yesterday.

An undercover police operation stopped prisoners Hendrik Gysbertus Van Schaik and Frederick Bernard Walkuski from acting out the elaborate plot, a revenge plan on District Court Judge Paul Rice who imposed a 17 year sentence on the prisoner back in 2009.

The Supreme Court heard yesterday that Walkuski allegedly offered Van Schaik $15,000 to murder Judge Rice and his wife Rosemary Davey, also a judge, by firebombing the judge's house and was offered a further incentive to set fire to the car and home of chief inspector Craig Wall.

The prosecutor said a third prisoner told police about the plot and conversations involving the accused men were recorded inside Mobilong Prison and over the telephone, where Judge Rice was referred to as a dog or an animal, according to the ABC.

"That anger and sense of injustice plagued on his mind over the years," said prosecutor Sandi McDonald.
Walkuski has denied the claims his lawyer saying that the motive of the prisoner who tipped off police needs to be carefully considered.

According to Van Schaik's lawyer, who also questioned the credibility of the witness, said the case will come down to whether he was actually intending to act on the plan.