Many big firms reported headcount declines of close to 10 percent, and some even higher than that in 2014. What's behind the shrinkage?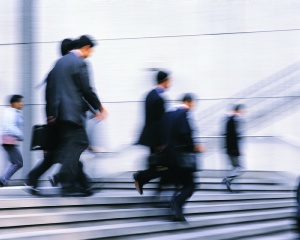 Many big firms reported headcount declines of close to 10 percent, and some even higher than that in 2014. Two firms spoke to Australasian Lawyer magazine about the reasons for the shrinkage trend.
Maddocks
is one firm that reduced its headcount last financial year; its 2014 headcount of 261 partners and lawyers was nine percent down on the previous year's number. CEO
Michelle Dixon
says the key driver behind larger firms' headcount decreases has been the need to re-evaluate their offerings to better suit client needs.
"I think the larger firms have been very focused on getting their service offering right, so part of that is making sure that we've got the right lawyers on the ground to provide the services to the clients that we're working with. So that necessarily means a bit of introspection and I think some firms decided that certain areas of practice aren't the areas of practice that they want to be in," she said.
"I think with some of the very large firms, in particular the international firms, there's been quite a conscious decision to either get out of particular areas of practice or alternatively some teams have upped and left because they think that those firms will no longer invest in them."
According to Dixon, this has enabled Maddocks to recruit lawyers to work in practice areas that Maddocks is focusing on.
According to
DLA Piper
's Australia managing partner
John Weber
, 2014's headcount declines are part of a continuing trend:
"The legal market in Australia is fundamentally altering itself and has been over a number of years," he said. "Some of what were largely domestic firms have actually begun the process of strategically narrowing their focus prior to the global financial crisis and prior to the entrance of lots of foreign law firms into the market."
With firms focused on perfecting their service offerings, the approach to reducing headcounts has been a targeted one.
"We're not in a situation where we're just going through and doing retrenchments or doing anything else to try and reduce headcount – that's just not the space we've been in. I think most firms have reduced their numbers but we're not seeing what some firms were doing in the GFC and having voluntary redundancies or anything like that. It's not been a panicky reaction," Dixon said.
In Weber's view, smaller headcounts may be the future for many large Australian firms.
"If you look at the size of Australian firms were relative in their own market and then in comparison with the rest of the world, they were very big firms and I suppose that it was unsurprising that firms were never going to get much bigger… most are going to get smaller," he predicted.