Registrations are now open for Australasian Lawyer's popular Contract Law Masterclass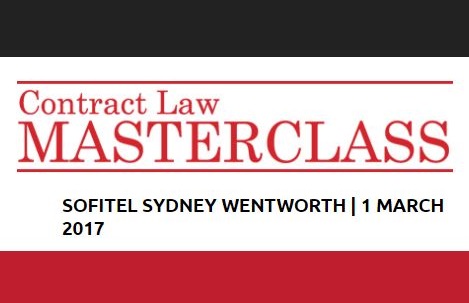 The Contract Law Masterclass will return to Sydney in March to cover the most complex and challenging areas faced by legal professionals during the contractual process.
The masterclass, brought to you by some of Australia's top contract law experts, will cover a host of topical issues to provide lawyers with the knowledge to achieve the best outcome for their organisation or client throughout the contract lifecycle.
A full event schedule is available online.
Super Saver discounts apply until Friday 16 December –
book now
.
The Contract Law Masterclass will be held on Wednesday 1 March 2017 at Sofitel Sydney Wentworth.
This masterclass satisfies the Legal Profession Uniform CPD (Solicitors) Rules 2015 in the areas of ethics and professional responsibility, practice management and business skills, professional skills and substantive law.