"There isn't a plastic ceiling that Barbie hasn't broken"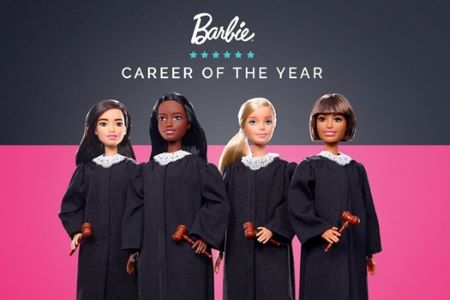 Barbie is now a judge.
The iconic doll has become "Judge Barbie" for this year's version of its long-running "Career of the Year" series. US toys giant Mattel said that the campaign ultimately wants to inspire young girls.
"The verdict is in! With over 200 careers since 1959, this year Barbie takes the stand as a Judge! The Barbie Judge Doll encourages girls to learn more about making decisions to change the world for the better," the official Barbie account said on Twitter.
The "Career of the Year" campaign typically highlights careers where there are significant gaps in female and male representation.
"Barbie has had over 200 careers," Mattel's Lisa McKnight told USA TODAY. "We like to say, 'There isn't a plastic ceiling that Barbie hasn't broken.' "
The global head of Barbie said that Mattel learned that women compose just 33% of state benches in the US. She said that Mattel hopes girls will enjoy playing with the dolls and imagine themselves protecting the rights of others.
The campaign is also linked to Mattel's Barbie Dream Gap Project. Barbie has partnered with Go Fund Me's non-profit advocacy arm to raise money to support girl-empowerment programs.