Minesh Patel shares the valuable lessons he learned in "an extremely busy and unforgettable period"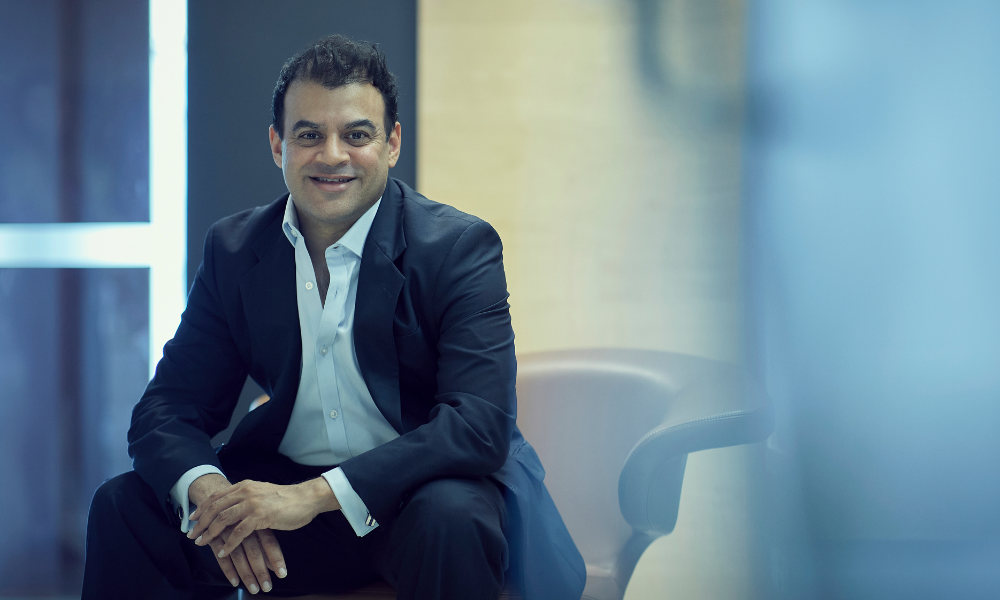 The chance to work all over the world was a deciding factor in Minesh Patel's decision to join Allen & Overy, and he's gotten an opportunity to do just that over his career. As an international debt capital markets lawyer with the firm, he has operated from London, Dubai, and now Sydney.
With COVID-19 driving the transformation of law firm operations virtually overnight, Patel has learned the importance of adaptability and staying connected to colleagues and clients. He has also come to appreciate the value of "me time" to keep him relaxed and focused during what he says has been "an extremely busy and unforgettable period."
In this interview, Patel talks about his dream of becoming a Test Match Special commentator, championing diversity and inclusion in the legal profession, Allen & Overy's mental health initiatives and looking forward to jumping on a plane back to London.
What made you choose a career in law?
I came to law in a roundabout manner – having completed a fairly random combination of A-Level subjects at school in England, I was not entirely sure which career I wanted to settle into. I eventually decided to read law and I attended as many of the City of London law firm presentations that I could whilst studying in Birmingham.
It was the promise of international secondments to far-flung places which eventually influenced my decision to apply for a training contract at Allen & Overy in London. Given I am writing this from Sydney, having previously also worked in Dubai, evidently those promises have been fulfilled.
I am still clinging to the fantasy that one day an opportunity to have my dream job, which is to be a commentator on Test Match Special, may come around. Seeing as the criteria for that role is to have played the game professionally, it shall remain just a dream, and in the meantime a career as an international debt capital markets lawyer will have to suffice!
What do you love most about your job?
As an English qualified lawyer based in Sydney, every matter that I work on involves either clients, colleagues or counterparties that are based overseas. Working with people from all over the world makes each matter unique and keeps things interesting. Genuinely no two days are the same, so there is limited opportunity for monotony to set in. The challenge to be flexible and mentally agile in order to handle all that is thrown at you is also a motivating factor as to why I still show up for work every day.
The other satisfying part of the job is seeing junior lawyers that you have mentored grow as people and professionals especially when they go on to enjoy successful careers in other offices within the A&O network. People that I once interviewed for summer clerkship positions in Sydney are now establishing themselves in New York, London and Paris.
What is going on at the firm? Are there any new programs and initiatives that you're particularly interested in?
Of the many programmes operating within the firm the one that has been of particular interest to me recently, especially during the pandemic, is the Minds Matter Programme that was launched in 2019. This is a strategic priority of the firm with the aim of fostering a culture where everyone is free to openly discuss their mental health, provide support where it is needed and champion working practices which facilitate positive mental health for all.
The programme is headed up by a partner that sits on the board who has previously shared their experiences battling anxiety and depression. This was a powerful story from a senior member of the firm (and was one of many shared by other senior members) that has opened up the discussion on how best we can support our staff to achieve their potential in a high performing culture. The firm has provided a wide range of tools and assistance ranging from free access to wellbeing apps, resources focussed on issues such as balancing work and life, resilience and coping with change and a selection of digital toolkits that focus on topics such as managing sleep and stress.
Knowing that these resources are available as part of a formal programme and regularly hearing the stories from other members of the firm on how they deal with their mental health issues is vitally important and I am happy to see it is taken very seriously within the firm.
What's the biggest lesson you learned in the past year and what advice can you give fellow lawyers about it?
The biggest lessons I have learned this year and the key pieces of advice are as follows:
always be prepared to adapt
stay connected
make time for yourself to switch off and unwind
During the pandemic we turned into a virtual global law firm literally overnight and yet were still able to execute complex, cross-border transactions without being compromised by the new environment we were operating in. The key to achieving this was staying close to our clients and giving them the comfort that we were able to handle their matters in the same way we would have done pre-pandemic. Staying in regular contact with other members of the team, even if just to check in and discuss non-work related topics, was crucial in order to keep up morale and stay motivated.
Finally, the ability to unwind is extremely important to me. Making time for myself, whether it be through exercise or experimenting in the kitchen, has allowed me to remain relaxed and focussed during what has been an extremely busy and unforgettable period.
What should the profession and law firms focus more on?
Law firms should continue to focus on all aspects of diversity and inclusion and in particular broadening access to the legal profession. The pathways to a career in law continue to be limited, or non-existent, for some parts of society and this should not be the case in 2020. This is an issue across the legal profession globally, regardless of the size and scale of the firm. Firms should be reflective of the society in which they operate in and this means recruiting talent from all backgrounds.
The aspirations of young people need to be raised, and schemes need to be implemented to ensure that they are equipped to realise their potential. Ultimately, this will lead to a diverse workforce, with a diversity of thought, which will be more relatable to clients and allow firms to service them better.
What are the challenges you expect in your practice, and in the business of law in general, going forward?
The initial challenge for the first half of 2021 will be the transition out of COVID-19 restrictions and the return to work. Flexible working is here to stay and the conventional office-based workforce may no longer be the norm. The challenge will centre on how to maintain firm culture over the longer term when your people are not in the same location and the successful integration, training and mentoring of junior lawyers into the team environment.
Going forward, the main challenge in the business of law will be the adoption of technology into the everyday delivery of legal services. Integrating the use of legal technology into the way we operate will allow us to become more efficient with certain commoditised tasks and free up valuable time to focus on the more complex parts of a matter. The legal industry is a competitive environment with clients looking to extract more value from their legal spend, so the firms that are able to develop and enhance the use of technology into their offering will be at the forefront of the profession.
What are you looking forward to the most in the coming year?
Continuing to work with clients on the most high profile matters in the market, focussing on building my practice and integrating new members into the team. Outside of work, I am most looking forward to jumping on a plane to visit my family in London and taking a holiday in Europe!