Research reveals glaring disparities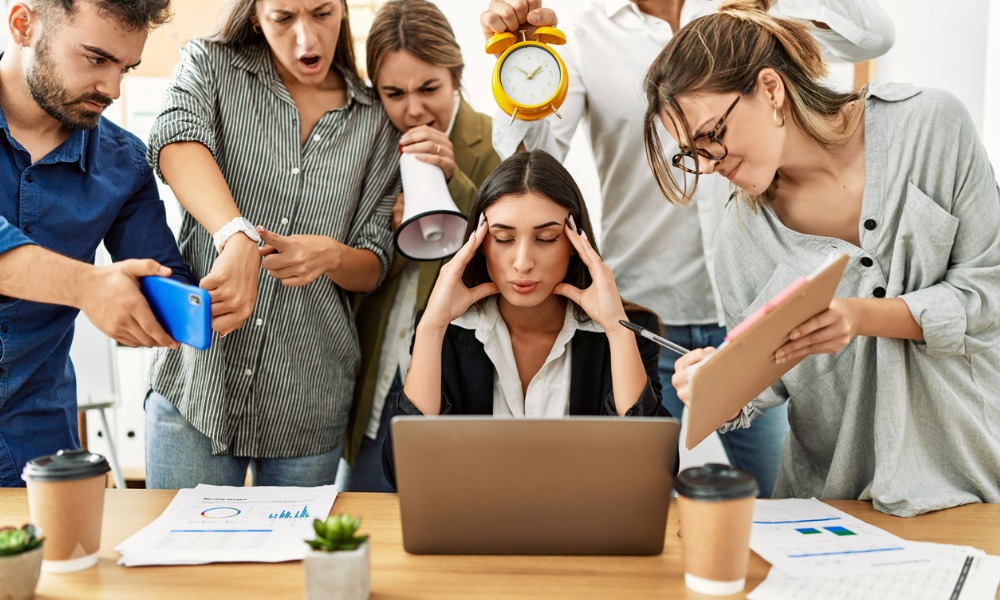 The "great resignation" is having a great impact on organizations who are also contemplating the seemingly never-ending labour shortage. And for women, the exodus seems to be even greater than it is for men.
According to a report by Lean In and McKinsey, 29 per cent of women thought about reducing their hours, taking a less demanding job or leaving the workforce altogether — compared to 22 per cent of men.
For every woman at director level who gets promoted to the next level, two women directors are choosing to leave their company, finds the report based on data and insights from 333 companies representing more than 12 million people, along with survey responses from over 40,000 employees.
"Women leaders are leaving their companies at the highest rate we've ever seen. They aren't leaving the workforce entirely but are choosing to leave for companies with better career opportunities, flexibility, and a real commitment to DEI," says Sheryl Sandberg, founder of Lean In.
Pay gap petition
One of the potential reasons could be the gender pay gap that continues to plague women who do equal work but remain woefully underappreciated. In New Zealand, there is a movement to force change.
Mindthegap, an advocacy group that campaigns for the public reporting of gender and ethnicity pay gaps, recently handed over an 8,559-signature petition calling on the government to bring gender and ethnicity pay gap reporting into legislation.
October 20 marked 50 years since the Equal Pay law was passed in New Zealand, making it illegal for men to be paid more than women for the same work, but Jo Cribb and Delwyn Stuart, cofounders of Mindthegap, say this is the time to honour those who fought for the change in law by committing to ensure New Zealanders are finally paid fairly in New Zealand.
"We know that if the government made pay gap reporting mandatory, more businesses would become aware of their pay gaps and start to address them, eventually making New Zealand a fairer place to work," says Stuart.
Salary is top concern
In Canada, similar problems persist: 33 per cent of women say they have noticed pay inequities at their organization, where new hires are offered higher salaries than current employees in the same role.
This is compared to 20 per cent of men who report the same thing, according to a survey by Robert Half.
Also, 57 per cent of women – compared with 45 per cent of men – say their top concern at work is their salary not keeping up with inflation.
Nearly two-thirds (64 per cent) of Canadian workers' wages are falling behind rising inflation, according to the Canadian Centre for Policy Alternatives (CCPA).
Women continued to earn 23 per cent less in total income (pre-tax salary and other compensation) than men in 2020, according to a survey from ADP released in 2021.
Both pay equity and increasing the representation of women in higher paying jobs need to be addressed to close the gap, according to non-profit firm Catalyst.
"While the gender pay gap and pay equity are related, they are not interchangeable. In other words, you can achieve pay equity, but unless you close the representation gap at all pay levels, you will continue to have a gender pay gap," says Catalyst.
Toxic environment
While pay inequity is a big problem, so is a toxic workplace and for some women, this can be another leading reason why they are leaving the workforce.
For Angela Workman-Stark, associate professor, organizational behaviour at Athabasca University — who also has experience at the RCMP, as chief superintendent — her research over the past six years has shown there are some obvious red flags that will signify something is wrong.
It starts with the type of culture that is practised, she says.
"Is it a competitive environment? Is it focused on acts of endurance and strength, such as people working extended hours to prove their commitment, and their worthiness? Is it the idea of having to put work before family; working long hours, being responsive to calls for extra time, such as overtime requests?"
This harmful culture manifests especially in male-dominated industries, such as policing, military and IT and finance, says Workman-Stark.
"It comes out quite strongly, this idea of not showing any sign of weakness or being seen to engage any in any type of behaviours that may be perceived as feminine, and then derided as weakness."
Lower desire to lead?
One reason for the gender gap in business leadership roles may simply be that fewer women want to be leaders, according to a new study.
The study was conducted by organizational behaviourist Ekaterina Netchaeva and gender researcher Leah Sheppard, along with collaborator Tatiana Balushkina.
Sheppard told Bloomberg that she had long been puzzled by the continued gender leadership gap in business despite corporate diversity efforts.
"The conversation around women and leadership was really dominated by bias and discrimination. We thought that there was a place to talk about women's agency: Are women actually intending to pursue these positions as much as men?" says Sheppard.