Affirmative action policies make good business sense for this firm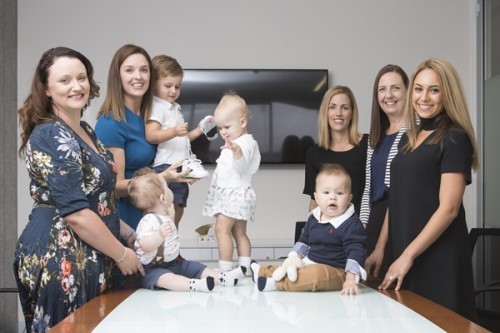 In 2008, RMB Lawyers launched a program to share the burden of childcare costs shouldered by women lawyers of the firm. Nearly a decade on, the regional firm is still abundantly supportive of its women lawyers precisely because it is seeing tangible results from its affirmative-action policies.
The firm has an impressive 88% return rate for women lawyers who are coming back to work after maternity leave. Apart from retaining top talent, the firm says it is gaining respect from both its staff and the wider community.
Earlier this year, RMB Lawyers launched a firm-wide career advancement, support, and mentoring program for its women lawyers, which builds on policies the firm has had in place for the better part of the last decade.
These policies include providing up to 25% of childcare costs paid by its women lawyers, putting in place work-from-home and workplace-flexibility arrangements depending on the needs of its lawyers' families, and mentoring and teamwork programs for exit and return from parental leave, says Craig Osbourne, the firm's managing partner.
The firm has also previously launched a policy for lawyers to purchase additional annual leave to assist them in structuring care for their children of school age during school holiday periods, says Claire Osbourne, family law partner.
"We understand that in a personal services law firm, lawyers rely on having a personal file load, and that there are going to be periods where economic performance is slow. During a parent's return to work, the firm and all its members support the returning team member to regain momentum and economic flow," Craig says. "This new program takes our support of women in law one step further by creating an environment where our female employees can gather and network with each other and mentors, with no agenda other than to simply enjoy the moment and reflect on the fact that they are important and valued."
Claire says that the program is the brainchild of the firm's most experienced family lawyer, Margaret Curran, and Craig. The main goal is to bolster confidence of the firm's women lawyers, improve staff morale, and acknowledge the challenges faced by female lawyers, by creating a culture of leadership, guidance, and mentoring across the firm, she says.
And it's not just for the firm's women lawyers returning from maternal leave, or only for the firm's women lawyers.
"The program was not designed specifically for women lawyers returning from maternity leave, but rather to advance, develop, and empower our female lawyers regardless of their circumstances, by connecting them with each other and with other professionals in our community," Claire says.
She says that the program, by increasing interaction within the firm, provides both male and female lawyers support. It also ensures women lawyers are advanced in the workplace and builds the firm's reputation as an employer of choice.
"It's early days yet, but we are already starting to see a rise in the confidence of our returning lawyer mothers and an understanding that their talent is respected and that they are not seen as a burden by the business at any stage," Craig says.
"Respect for the firm from the outside in and inside out continues to gather momentum," he says.
The female lawyers of the firm are excited that RMB Lawyers is committed to promotion and advancement of women in the workplace, Claire says. They also appreciate the ability to have "some time away from the desk and Dictaphone to share stories and learn from each other," she says.
These programs directly help RMB Lawyers in weathering a legal business landscape fraught with challenges and changes. Among these challenges are the commoditisation of legal products and services, which means declining profit margins and the need to scale up and become more efficient, Craig says.
Claire echoes the sentiment, and says legal firms also need to balance the expectation of employees pushing for more flexible work arrangements and the profitability and efficiency of those arrangements.
"Whilst technology is enormously helpful in this domain, the challenge seems to be in breaking society standards about what efficiency and profitability looks like for employees," she says.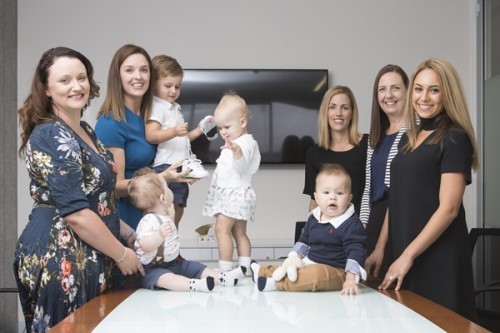 RMB Lawyers' women lawyers with their littlies (supplied)
Related stories:
Renewed calls for gender equality in law amid uneven High Court representation
Facebook pressures law firms to 'like' diversity