Are law firms as tech ready as they think?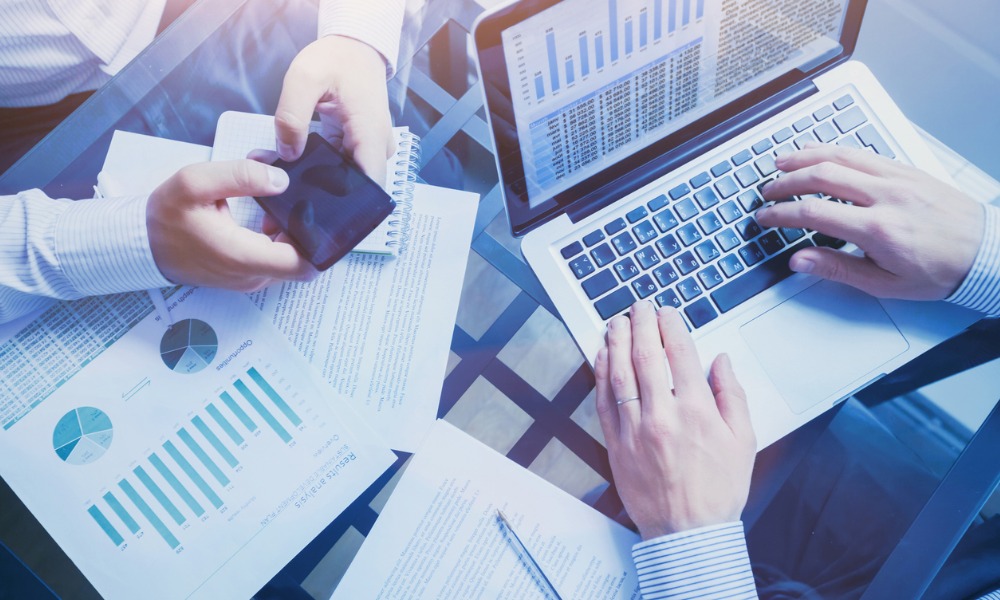 Are law firms as tech ready as they think?
When it comes to emerging and potential disruptions resulting from new technology, law firms believe they are "change ready", NAB's inaugural Legal Services Industry Survey finds. Yet this sits in stark contrast to other sectors.
"Across most industry sectors, businesses are not only aware of digital disruption, they believe their business models are vulnerable to it," says Dean Pearson, NAB Head of Behavioural & Industry Economics.
So why the disparity? It's not entirely clear. "Whether the legal profession is more advanced when compared to other industries, or collectively underestimates its vulnerability, only time will tell," Pearson concludes.
Getting ready for change
There's no doubt it's important though. If law firms are to further grow their businesses well into the future, they need to be sufficiently prepared for any changes that come their way, says NAB Customer Executive Professional Services, Brett Moore.
This comes down to understanding what is changing and how prepared you are for it. That's the reasoning behind NAB's survey, a comprehensive study of 70 law firms and over 750 small and medium-sized businesses. It focused on the evolving needs of SMEs, in particular, looking at what they think about their law firms – and comparing this with what lawyers think about them.
The end result was interesting insights into both groups, including some key discrepancies around what SME clients actually need and value.
Innovation isn't all about technology
Is technology an example of how law firms might be misreading the signs? According to NAB's results, lawyers consider themselves "very well prepared" for the mandatory introduction of electronic conveyancing and are similarly optimistic about their preparedness for online courts and online dispute resolution. But technology goes further than this and requires a holistic business approach.
A survey by research consulting firm beaton, a leading specialist on professional services, shows that one third of businesses don't think any law firm is innovative. It's not that straightforward though. While only 15 per cent of respondents mentioned technology with respect to innovation, the others focused on such aspects as solutions, communication and the client experience.
Company founder and executive chairman George Beaton doesn't find this surprising. "Clients are interested in outcomes, in solutions. They want it done right first time or they want low costs from increased efficiencies. They're not interested in innovation per se."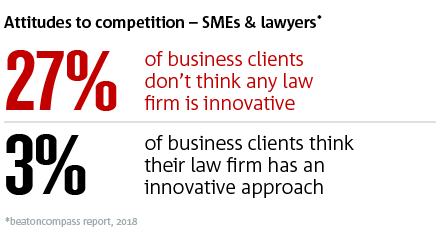 Opportunity lost?
Nevertheless, Beaton is sceptical about how prepared lawyers are for the ongoing wave of new technology, particularly given its accelerated nature. He points out that there's a tendency for lawyers to step back from the general hype around new technology. "The conservative lawyer says they'll wait until the hype's passed. They always wait for someone else to go first. So it's a self-fulfilling cycle of slow uptake of technology."
Already there's an issue of lawyers underusing available technology, Beaton says. "What we know is that of the technologies available to lawyers today, the majority do not maximise the benefits of them; they just don't know how to. They're using 10 per cent of the technologies' capability."
There's more to good service
Yet while technologies can certainly improve your offering, they're not the be all and end all. Lawyers may be reassured to learn from NAB's research that law firms and SMEs both agree technology will never replace the skills of a good lawyer.
To understand more about how prepared law firms are for SMEs' evolving needs, read the full NAB Australian Legal Services Industry Survey Key Insights into What Your SME Clients Need and Value.