Jump to winners | Jump to methodology | View PDF
CLEARING THE PATH TO EQUALITY
Promoting social change, adapting to a working environment transformed by COVID-19, and creating new models of legal practice are among the breakthroughs demonstrated by the Elite Women featured in this report.
Australasian Lawyer's list celebrates 50 female legal professionals who have excelled throughout an unusually challenging year. Their achievements highlight the innovative role of women in law, and inspire others to uphold diversity, gender equality, and inclusiveness in the workplace. The initiatives of these women lawyers include introducing parental leave, organising events and workshops, and conducting training sessions for companies and senior executives around issues such as sexual harassment, bullying, discrimination, regulatory whistle blowing, and recent legislative reforms.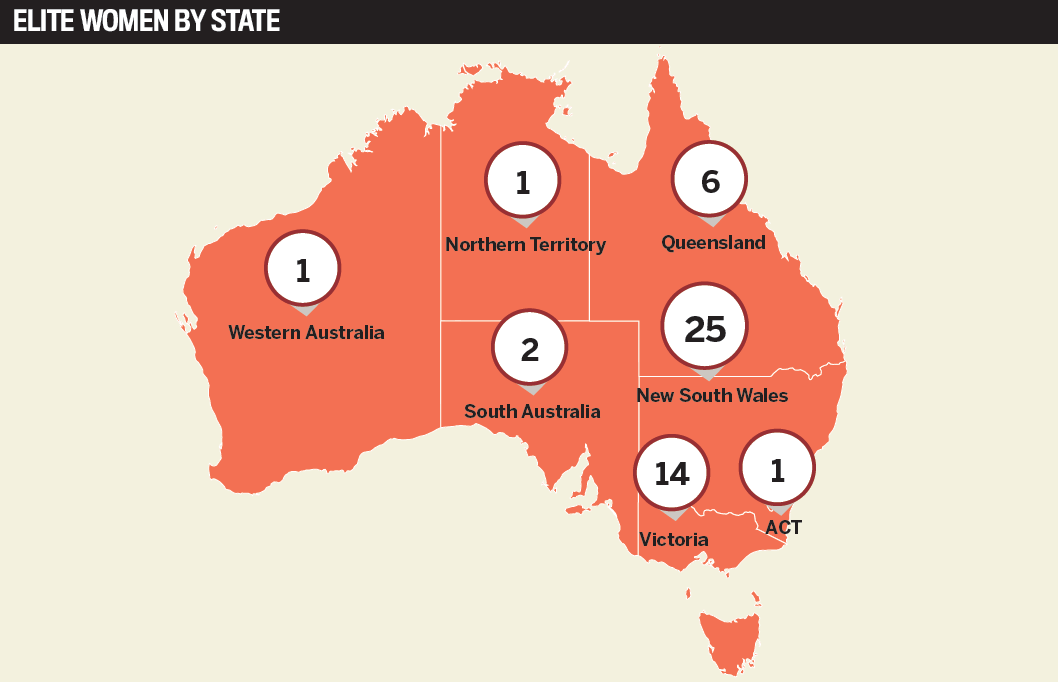 Driving change in legal practice
Each of these Elite Women has contributed to changes in the law or in their workplace that will have a flow-on effect for future generations. Many are transforming the nature of the profession by introducing new ways of working and achieving equality and fairness in what was traditionally a male-dominated profession.
From forming their own fixed-fee practice, to integrating lawyers into business units in order to increase business understanding and collaboration, to overseeing multimillion-dollar contracts and upholding compliance and ethics, these women have demonstrated skills that have a strong impact on legislation and law practice.
Leanne Liddle, director of the Aboriginal Justice Unit for the Northern Territory Government's Department of the Attorney-General and Justice, has led an expert reference group to engage with Aboriginal organisations to promote justice initiatives in the region. Her work centres on an urgent social and legal problem because Aboriginal people comprise almost 90% of the imprisoned population and almost the entire youth detention population. Liddle worked to bring about the Northern Territory's first Aboriginal Justice Agreement, a seven-year agreement to reduce reoffending and imprisonment rates of Aboriginal Territorians, support Aboriginal leadership, and improve judicial response.
"Leanne Liddle has actively contributed to diversity in decision-making relating to justice policy through consulting with 160 Aboriginal communities across the Northern Territory," says a spokesperson for her office.
"Her leadership has ensured that the justice sector includes the standpoints of Aboriginal people. Within her own Aboriginal Justice Unit, she has consistently employed and mentored Aboriginal staff and created cultural safety within her team."
Transforming the treatment of women is important to Danielle Snell, co-founder and director of Elit Lawyers by McGirr & Snell. She started the firm from her dining room while 30 weeks pregnant to "take control of her own legal destiny by creating an innovative legal service model that reflects her values and puts clients first". Passionate about diversity and inclusion, Snell represented high-profile clients in the second wave of the #MeToo movement.
Leading barrister Georgina Schoff, QC, compliments Danielle's "great strategic mind" and deep knowledge of the law.
"I know her to be dedicated to issues of diversity, inclusion and equality in the legal sector and, by her achievements, she has demonstrated that women in the profession can hold senior and diverse positions in law firms, whilst at the same time having babies and raising a family," Schoff says.
Another Elite Woman, Rachel Besley, general counsel at Deloitte Legal & Deloitte Australia, is recognised for her contribution to mentoring young and aspiring lawyers and overturning tradition to introduce a 40:40:20 gender quota for the board of the professional services firm. This change means that women will account for at least 40% of the board of directors.
A spokesperson for Deloitte says Besley has played a key role in shaping the company as a "great and inclusive place for all people to work and develop rewarding careers".
"She has worked closely with our People team to implement the necessary policies to allow employees to take parental leave – for both parents concurrently – regardless of who was the primary carer," the spokesperson says.
Social enterprise "legal beagle" Kate Sherburn is also working to drive diversity, equity and inclusion across her workplace, developing internal policies such as gender-neutral parental leave, and leave for those suffering from pregnancy loss and menstrual symptoms. She applies her own experience to communicate new ways of working with the legal community through LinkedIn, conferences, podcasts and InView, a professional platform for in-house counsel.
"Kate is committed to sharing her experiences to help women coming through the ranks in the legal industry. She has navigated these waters, so she shares what she would have wanted to know when she was starting out," a company spokesperson says.
Staying true to legal values and principles has been critical to Ilona Meyer, Australian general counsel of pharmaceutical company Boehringer Ingelheim. While serving on the board of a not-for-profit sporting organisation, she advocated for compliance, transparency and good governance. She launched investigations into some business dealings despite being "a volunteer director with nothing to win and everything to lose".
"[Ilona] and her organisation were successful in proving that a national sporting body was found to be in breach of its fiduciary duties and had acted unconscionably," a spokesperson for her says.
"[This] ensured that her state sporting organisation – and ultimately its regional member clubs – were able to [recover more than] $600,000 in funds owed to them for the development of local sporting facilities."
"They say integrity is something you show when no one is watching. To stand up and call out misbehaviour requires courage, particularly when you're the only woman on a board full of men that have been there for over 20 years," says the spokesperson.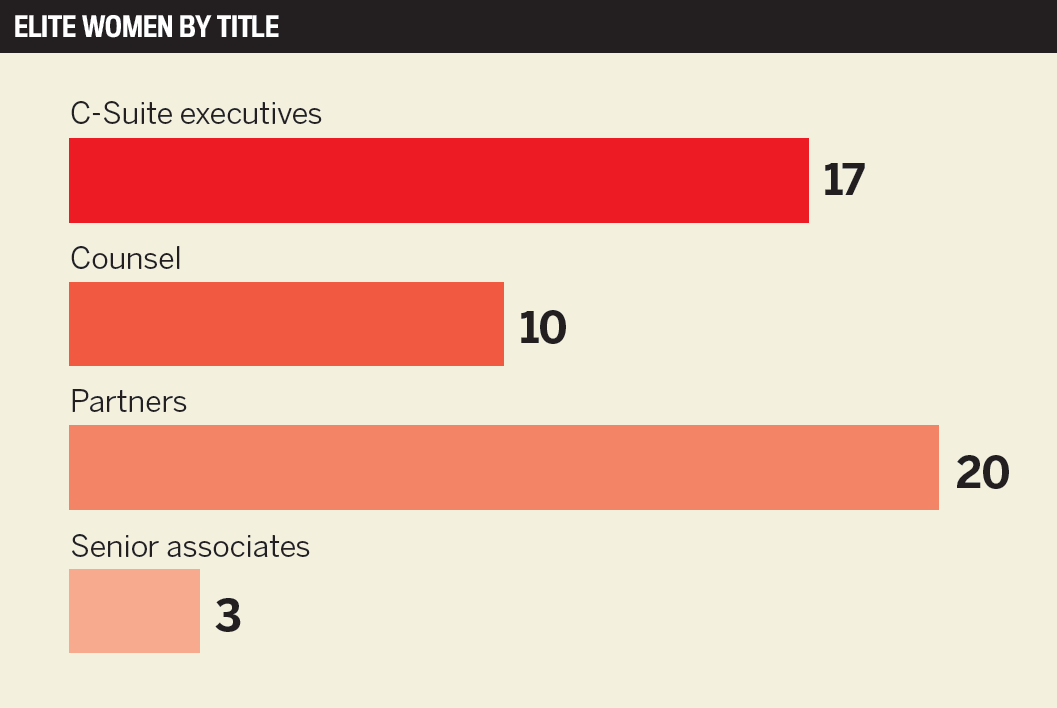 Teaching the next generation
Many of the Elite Women consider mentoring as a crucial part of their work to help young people overcome workplace barriers to promotion and flexibility. Knowledge sharing is another important duty. For some leaders, this has involved organising career-pathway programs for young women. Others have championed women for senior leadership and director roles.
Georgia Quick, a partner at Ashurst, has not only practiced in the male-dominated dispute resolution, construction, energy and resource sector. She has also been elected president of the Australian Centre for International Commercial Arbitration, the country's leading dispute resolution body.
"Georgia has been a standout female leader, working on market-leading projects and mentoring many junior female practitioners along the way," a spokesperson for Ashurst says.
Another awardee, former Maddocks chief executive Michelle Dixon, was recognised as a strong advocate for diversity at her firm and in the wider profession. Her role involves supporting organisations such as Women and Leadership Australia and Global Sisters. The percentage of female partners in Maddocks' organisation more than doubled under her leadership, and more than tripled in total number.
Senior lawyer and professional coach Claire Bibby has mentored across industries as a public speaker on diversity and inclusion, wellness, high performance and women's leadership. She is also a mentor for Layne Beachley's Aim for the Stars Foundation.
By introducing new ways of working and succeeding in a highly demanding profession, this year's Elite Women have shown their profound impact on their organisations and communities. They have also set a positive example and demonstrated their influence on the next generation of female lawyers.
Alicia Albury


Maddocks

Andrea Michaels


NDA Law

Angela Cooney


Armstrong Legal

Angie Coleman


Springfield City Group

Belinda Winter
Cooper Grace Ward Lawyers
Bree Knoester


Brave Legal

Diane Barker, PhD


Australian Catholic University

Carly Stebbing


Resolution 123

Catherine Dunlop


Maddocks

Catherine Henry


Catherine Henry Lawyers

Cilla Robinson
Clayton Utz
Claire Bibby


Claire Bibby

Clare Eves
Shine Lawyers
Danielle Snell


Elit Lawyers by McGirr & Snell

Debra Parker


Parker Coles Curtis

Emma Covacevich


Clayton Utz

Fay Calderone


Hall & Wilcox

Frances Drummond
Norton Rose Fulbright
Genevieve Collins


Lander & Rogers

Ilona Strong


Hall & Wilcox

Kate Sherburn


Who Gives A Crap

Katrina Reye


Hall & Wilcox

Kelly Crawford


Arup

Kiri-Ana Libbesson


Settlement Services International

Leanne Liddle


Department of the Attorney-General and Justice, Northern Territory Government

Marguerite Picard


Melca

Melanie Thomas


Telstra

Meryem Apak


Melbourne Lawyers & Mediators

Michaela Moloney


K&L Gates

Michelle Dixon


Maddocks

Nikki Robinson


Clayton Utz

Paula Robinson


Ailier

Rachel Besley


Deloitte Legal and Deloitte Australia

Rebekah Lovely


Revolution Law

Ria Manguray


Tourism Australia

Ruveni Kelleher


Johnson Winter & Slattery

Samantha Daly


Johnson Winter & Slattery

Shanti Berggren


Optus

Sonja Stewart


NSW Law Society
Nominators were asked to describe the nominee's standout professional achievements over the past 12 months, along with her contributions to diversity and inclusion and how she has given back through volunteer roles and charity work. Recommendations from managers and senior industry professionals were also taken into account.