As COVID-19 pushed the legal profession to go digital, the 2020 New Zealand Law Awards honoured the country's best lawyers, firms and in-house legal departments in a virtual ceremony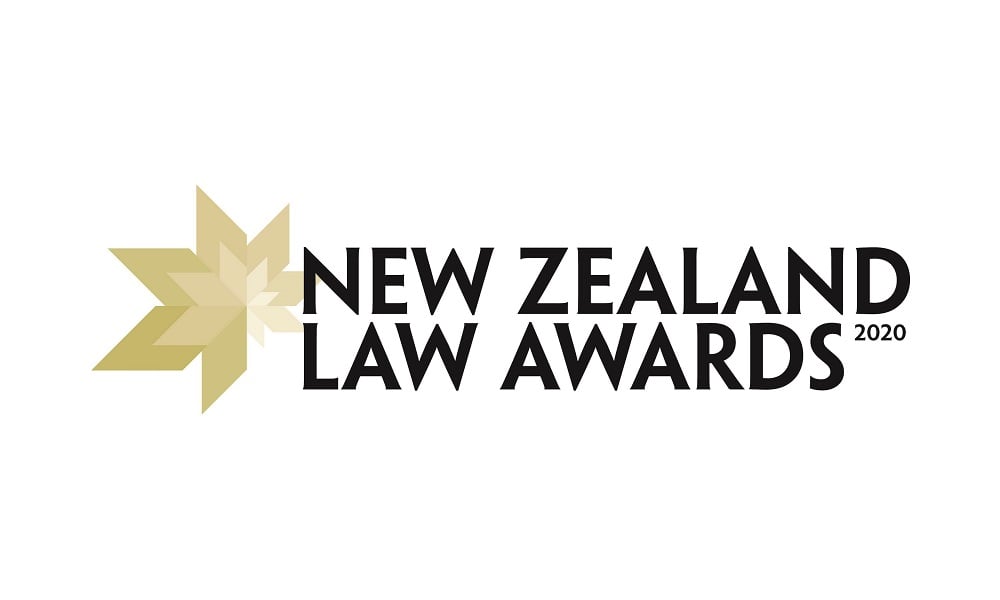 In June 2020, firms, lawyers, in-house departments, banks and accountancy firms across New Zealand were invited to nominate the best in the country's legal services market for the 2020 New Zealand Law Awards.
Over a five-week nomination period, the New Zealand Law Awards team received an influx of high-quality submissions, highlighting the efforts and achievements of firms, individuals and teams who stepped up over the past year in the wake of the COVID-19 pandemic. Following a stringent evaluation process conducted by a panel of more than 20 independent expert judges over several months, the winners were crowned in a virtual ceremony 10 December. For the first time in their 17-year history, the New Zealand Law Awards were celebrated entirely online.
"It's important that we are highlighting and celebrating the high-quality work, innovation and positive change happening within New Zealand's legal profession, as well as celebrating the excellence and leadership of those lawyers who are creating new standards," said Jo Avenell, CEO of award sponsor Russell McVeagh.
Here are the winners of the New Zealand Law Awards 2020:
DEBT MARKET DEAL OF THE YEAR
WINNER: Acquisition financing of Vodafone New Zealand
EQUITY MARKET DEAL OF THE YEAR
WINNER: Napier Port IPO
PROJECT FINANCE DEAL OF THE YEAR​
WINNER: City Rail Link
M&A DEAL OF THE YEAR​
WINNER: Vodafone New Zealand acquisition
INSOLVENCY AND RESTRUCTURING DEAL OF THE YEAR
WINNER: Receivership of Ebert Construction retention fund
MID-MARKET DEAL OF THE YEAR​
WINNER: Synlait acquisition of Dairyworks
NEW ZEALAND DEAL OF THE YEAR
WINNER: Vodafone New Zealand Acquisition
YOUNG IN-HOUSE LAWYER OF THE YEAR (35 OR UNDER)​
WINNER: Leah Taylor, Fisher & Paykel Healthcare
IN-HOUSE LAWYER OF THE YEAR
WINNER: Julian Benefield, Foodstuffs North Island
SIMPSON GRIERSON FINANCIAL SERVICES IN-HOUSE TEAM
WINNER: BNZ
RUSSELL MCVEAGH IN-HOUSE TEAM OF THE YEAR
WINNER: Fisher & Paykel Healthcare Legal Team
EMPLOYMENT LAW SPECIALIST FIRM OF THE YEAR
WINNER: Dyhrberg Drayton Employment Law
LITIGATION & DISPUTE RESOLUTION SPECIALIST LAW FIRM OF THE YEAR
WINNER: Gilbert Walker
WESTERN UNION BUSINESS SOLUTIONS INTELLECTUAL PROPERTY SPECIALIST LAW FIRM OF THE YEAR
WINNER: AJ Park
PROPERTY & CONSTRUCTION SPECIALIST LAW FIRM OF THE YEAR
WINNER: Thompson Blackie Biddles
INSURANCE SPECIALIST LAW FIRM OF THE YEAR
WINNER: Fee Langstone
BOUTIQUE LAW FIRM OF THE YEAR
WINNER: Gilbert Walker
ARTEMIS EXECUTIVE RECRUITMENT EMPLOYER OF CHOICE (< 50 LAWYERS)
WINNER: Juno Legal
ARTEMIS EXECUTIVE RECRUITMENT EMPLOYER OF CHOICE (51-100 LAWYERS)
WINNER: Tompkins Wake
ARTEMIS EXECUTIVE RECRUITMENT EMPLOYER OF CHOICE (> 100 LAWYERS)
WINNER: Russell McVeagh
RESOLUTION INSTITUTE MEDIATOR OF THE YEAR
WINNER: Paul Sills, Mediator & Barrister
YOUNG PRIVATE PRACTICE LAWYER OF THE YEAR (35 OR UNDER)
WINNER: Angela Harford, Bell Gully
MANAGING PARTNER OF THE YEAR (< 100 LAWYERS)
WINNER: Jon Calder, Tompkins Wake
MANAGING PARTNER OF THE YEAR (> 100 LAWYERS)
WINNER: Anna Buchly, Bell Gully
NZ LAWYER DEAL TEAM OF THE YEAR (> 100 LAWYERS)
WINNER: Bell Gully Corporate Team
DEAL TEAM OF THE YEAR (< 100 LAWYERS)
WINNER: Webb Henderson
REGIONAL/SUBURBAN LAW FIRM OF THE YEAR
WINNER: WRMK Lawyers
MID-SIZE LAW FIRM OF THE YEAR
WINNERS: Harmos Horton Lusk – Corporate Team
Tompkins Wake
LARGE LAW FIRM OF THE YEAR
WINNER: Russell McVeagh